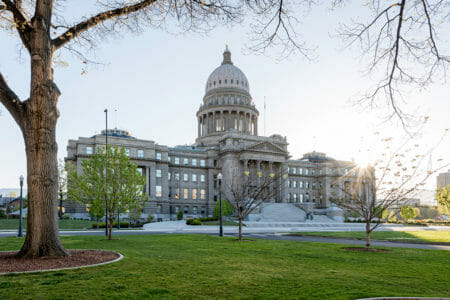 Charlotte, NC –-(Ammoland.com)-  Yesterday, the Idaho Senate voted 31 to 3 to pass House Joint Resolution 2a, a much-needed constitutional amendment that would provide meaningful protections against anti-hunting activists who seek to ban all hunting in America.
HJR 2a passed the House on March 22 by a 63 to 4 vote.  HJR 2a will now be on the ballot for voter approval this November.
The NRA has been working with state House and Senate leadership to produce a robust constitutional amendment.  Thanks to their efforts, HJR 2a contains most of the core tenets of the NRA's model Right to Hunt language that have been developed over recent years.
For instance, HJR 2a, introduced by the House Ways and Means Committee, would guarantee the rights of Idahoans to hunt, fish, and harvest wildlife "by the use of traditional methods."  This would eliminate any opportunities for well-funded animal rights activists to ban the use of certain methods like archery tackle or dogs for hunting.  In other jurisdictions, these radical groups have sought to ban these "cruel" and "unsporting" methods, and HJR 2a will help to ensure they do not succeed in Idaho.
In addition, HJR 2a specifies that hunting, fishing and harvesting of wildlife shall be used as a "preferred means" of managing and controlling wildlife. This provision would ensure that sportsmen will continue to be used as the state's responsible game managers instead of the taxpayer-funded sharpshooters and unproven, expensive wildlife contraception schemes employed in other jurisdictions.
Thank you to all legislators who worked so hard to pass HJR 2a and to all NRA members who contacted their state Senator and Representative.  
---
About NRA-ILA:
Established in 1975, the Institute for Legislative Action (ILA) is the "lobbying" arm of the National Rifle Association of America. ILA is responsible for preserving the right of all law-abiding individuals in the legislative, political, and legal arenas, to purchase, possess and use firearms for legitimate purposes as guaranteed by the Second Amendment to the U.S. Constitution. Visit: www.nra.org