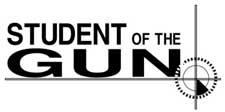 LUVERNE, AL –-(Ammoland.com)- This week Paul will interview Joyce Wilson, the Executive Director of the International Defensive Pistol Association (IDPA).
We talk about the origins of the sport began, where it's heading and how you can get involved.
Defensive shooting is not just about making noise and generating empty brass. Anyone considering the use of a firearm for personal protection must understand target discrimination.
In the real world there are more things that shoot not be shot versus those that should. During a crisis situation you must be able to think with a gun in hand.
Paul leads us though additional segments of Straight Shooting, Running the Gun, and Beyond the Band-Aid. Student of the Gun airs every Sunday, Monday, and Thursday on the Sportsman Channel. Please check your local service provider for dates and times.
www.studentofthegun.com
www.thesportsmanchannel.com
Paul Markel © 2012
Follow Paul Markel at Student of the Gun.com and PaulMarkel.com. Look for Paul's new eBook "Student of the Gun; A beginner once, student for life." On sale now at BN.com and Smashword.com