By David Gonzales
AmmoLand Youtube Firearms Reporter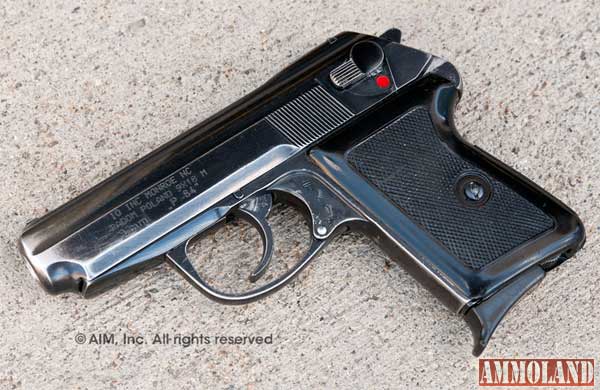 Albuquerque, NM –-(Ammoland.com)- Please watch the below review of the Polish, P-64 military surplus pistol.
The P-64 was developed in the 1950's specifically for the Polish military. It's intended purpose was to replace the Russian Tokarev TT-33 service pistol. However, since it hit the military surplus market in recent years it appears that this little gem has found new life as a very good pistol for conceal carry.
What makes it appealing as a conceal carry gun (for those who can do so legally) is it's diminutive specifications. It's only one inch thick, about 6 inches long and 4.5 inches in height. But, for a small gun it's still a bit heavy in my opinion, at about 22 oz. unloaded. However, lets face it, all steel guns will never be as light when compared to similar polymer framed handguns.
For a gun developed in the 50's it has a decent amount of safety features, which include a side mounted safety that also doubles as a decocker. When actuated the safety blocks the firing-pin before dropping the hammer. It also has a loaded chamber indicator.
Some of the drawbacks of this weapon that I've read about all seem to indicate that the double-action trigger pull is just awful. When the P-64 is shot in single action mode the trigger crispness and weight appears to get rave reviews. Also, the recoil appears to be a little stout. However, both the recoil issues and double-action trigger issues appear to be improved if a person swaps out the factory hammer and recoil springs with a set from Wolff Gunsprings. The magazine capacity is also a bit of a drawback with a capacity of only six rounds of 9mm Makarov.
The profile of the P-64 is very similar to that of the Walther PPK, which for a lot of people after approximately eighty years of service, the PPK is still the epitome of the ideal carry gun. However, the Walther PPK can be an extremely expensive weapon to acquire. This may partially be attributed to it's Hollywood allure. But it's also probable that after eighty years of service it's developed a reputation as being a reliable weapon. To be able to get a firearm that is similar to the Walther PPK and may be just as reliable for approximately $200 makes this gun a desirable purchase for those of us on a budget.
About David Gonzales:
David Gonzales grew up with firearms and has many fond memories of hunting with his grandfather. He enjoys participating in the occasional shooting match, going to the gun range with his family and friends and still has much to learn about firearms. However, he became a certifiable "Gun Nut" in 2008 when he realized that the constitutional right he took for granted could so easily be taken away. Did you see something on YouTube that David Should review. Leave a link in the comments below.