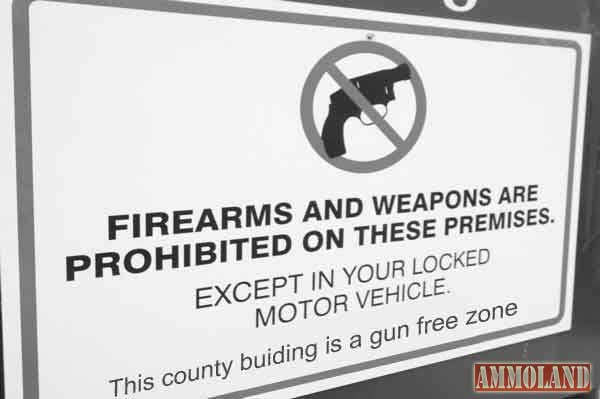 Catalina, AZ –-(Ammoland.com)- HB 2729, which would require operators of state and local government property, wishing to ban firearms, to control access using law enforcement personnel or armed guards and metal detectors, passed out of the Senate Rules Committee on Monday, April 2nd.
The next step is a Senate Committee of the Whole (COW) hearing.  We need to act now!
Your letter to your Senator, urging them to support HB 2729, has been prepared and is waiting for you to send at AzCDL's Legislative Action Center: https://capwiz.com/azcdl/issues/alert/?alertid=61148546.
It only takes a few mouse clicks to make a big difference.
If HB 2729 becomes law, there is a strong possibility you will see fewer "no firearms" signs on state and local government property, because a cheap sign posted on the door will no longer be enough.  There would be the added responsibility of ensuring the safety of those entering the property.  And, operators of government property could be sued for not complying with the law.
HB 2729 needs to pass out of the Senate COW hearing before a formal Third Read Vote can be conducted.  Third Read is the last step in the Senate before this bill can be sent to the Governor.
These alerts are a project of the Arizona Citizens Defense League (AzCDL), an all-volunteer, non-profit, non-partisan grassroots organization:   https://www.azcdl.org/html/join_us_.html .
AzCDL – Protecting Your Freedom
https://www.azcdl.org/html/accomplishments.html .
---
About AzCDL

AzCDL believes that the emphasis of gun laws should be on criminal misuse and that law-abiding citizens should be able to own and carry firearms unaffected by unnecessary laws or regulations. AzCDL was founded by a group of local activists who recognized that a sustained, coordinated, statewide effort was critical to protecting and expanding the rights of law-abiding gun owners. As a like-minded coalition of activists, the AzCDL founders were instrumental in the successful passage of the first major improvement to Arizona's CCW (concealed carry) laws since they were instituted in 1994. Visit: www.azcdl.org