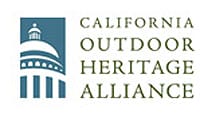 SACRAMENTO, CA –-(Ammoland.com)- On April 24th, the Senate Natural Resources and Water Committee will hear SB 1221 (Lieu), legislation that would outlaw the use of dogs for hunting bears and bobcats in California.
By attempting to prohibit the use of dogs via statute, SB 1221 would violate the spirit of the California Environmental Quality Act (CEQA) – the process established by the Legislature to ensure that policy decisions which impact our natural resources are based upon the best available science, following thorough environmental review.
Natural resource policy decisions are most appropriately made in public forum by the California Fish and Game Commission – the regulatory body established by the Legislature specifically to regulate hunting seasons, bag limits and methods of take.
SB 1221 would not only prohibit the long-standing tradition of hunting these species with hounds, but also place all other types of hunting with dogs in serious jeopardy.
TO BE SUCCESSFUL, COHA URGENTLY NEEDS YOUR HELP!
It is critical that members of the Senate Committee on Natural Resources and Water hear from you. CALL and WRITE the committee TODAY! For a sample opposition letter and Legislator contact information, click here.
Also, JOIN COHA at the Senate Natural Resources and Water Committee hearing on APRIL 24th in Room 112 of the State Capitol at 9:00 am.
Wilderness Unlimited Foundation, WildEats, and COHA Foundation Event just around the corner!
Join California Outdoor Heritage Alliance Foundation (COHAF), Wilderness Unlimited Foundation (WUF) and a host of dedicated sportsmen and women at the 3rd Annual "Wild" Fundraiser that will feature nationally recognized Wild Game Chef and W.U. member John McGannon of WildEats Enterprises. The event will feature 4-tickets near home plate for a San Francisco Giants home game, hosted bear hunt with hounds, pig hunt, artwork, firearms, and more. For more information and to view the event flyer, click here
OUR MISSION STATEMENT
The California Outdoor Heritage Alliance (COHA) is a 501(c)4 non-profit political advocacy organization dedicated to the promotion of wildlife conservation and the protection of our hunting heritage. COHA was created to enhance the political effectiveness of hunters and other wildlife conservationists and enthusiasts in the halls of our State Capitol and beyond. For further information on COHA and its member organizations, please visit us at www.outdoorheritage.org