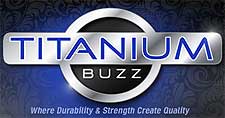 Linden, MI –-(Ammoland.com)- You're a hunter and you're proud of that fact, so why not display your passion for the hunt through more than just your camo clothing?
The same Titanium Buzz that has provided you with Realtree and Mossy Oak camouflage rings for the past four years continues to push the limit in camo and outdoor-themed jewelry with alternative metals and exciting new designs that are sure to impress.
If your hunt for the perfect outdoor-loving girl is over, then make her a forever promise with a camo diamond engagement ring. The Tension Set Diamond Camo Ring and Camouflage Engagement Band feature Cobalt Chrome and your favorite Realtree or Mossy Oak camo inlay. Colbalt, a newer metal to the jewelry industry, is making a big splash thanks to its lovely bright white color and durable characteristics. Although it resembles platinum, it's a fraction of the cost.
"Every single detail on every single one of our camo wedding bands and rings — from the width and thickness of the inlays, to the angle of the edges, to even the type of finish used on the inside — was all the result of weeks and sometimes months of careful design and testing," Kevin Begola, owner of Titanium Buzz, says. "The collection we feature today took years to develop."
Nothing reflects an outdoors style like camo cufflinks. Not to mention, they're ideal for the wedding season. The Realtree AP Camo Cufflinks feature an edgy square stainless-steel design with a detailed Realtree AP inlay. Each set is custom inlayed for you and will be different from one another. The Mossy Oak Breakup Pattern Cufflinks are made from stainless-steel that has been inlayed with your favorite Mossy Oak branded camo. Get these post-style cufflinks for yourself on your big day or for your wedding party as gifts. Also consider the Realtree Cufflinks made of solid titanium featuring a cool antler and Realtree lettering across the face. They are finished off with a combination of blasted and high-polish finish for a sharp look.
Check out these additional outdoor-themed rings, which are crafted from lightweight metals like titanium and zirconium and feature unmatched inlays of authentic Realtree and Mossy Oak camouflage. They may match the camo you wear in the woods, but at home they'll do anything but blend in!
You'll no doubt love the classic carved as well as laser engraved styles that feature camo, deer tracks, buck antlers and unique Mossy Oak and Realtree designs that can't be found anywhere else. Browse the exclusive selection of camo rings and discover what happens when a camo wedding ring gets designed by outdoorsmen for outdoorsmen!
For more information, check out www.titanium-buzz.com.