Mousegunner's Review of the Kimber Team Match II in .45 ACP.
Originaly post on Mouseguns.com August 30, 2007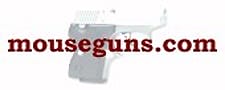 Signal Mountain, TN – -(Ammoland.com)-It was my good fortune to receive a Kimber Team Match II in .45 caliber last month as an early birthday present (everyone, please send more guns!), and so I have the privilege of sharing my experiences about this fine firearm.
This Kimber is my first 1911 pistol, so I am learning as I go along. I took it apart, cleaned and oiled it (it didn't need much cleaning), put it back together again, and took some photos during the process.
The Team Match II .45 ACP has a stainless steel slide and frame. Earlier models were made with a new, external extractor with loaded chamber indicator feature. At this present time (2007) Kimber has returned to the internal extractor for the Team Match II. (My gun has the internal extractor.) Custom features include 30 LPI front and back strap checkering and special red, white and blue USA Shooting Team logo grips. The Team Match II is available in .45 ACP and .38 Super calibers.
(Here's a link to a page with lots of info about all Kimber models.)
The Kimber Team Match II came with a standard, unmarked 8-round magazine from Kimber. Having heard rumors of the standard mag not always functioning perfectly, I went ahead and bought three Chip McCormick Power Mags, and two KimPro Tac magazines. I bought my magazines from "The Armory" on the internet. Their prices were as low as can be found, and their customer service/fast shipping was top-notch.
The Team Match II .45 ACP is used by the U.S.A. Shooting Rapid Fire Pistol Team to train for Olympic competition. The gun was not made for the Olympics. It's purpose is to be legal in as many matches possible, so the Team could get in as many matches under their belts as possible, before the Olympics.
To prepare for the Olympics, the U.S.A. Shooting Rapid Fire Pistol Team will be competing with pro shooters on the action shooting circuit. Accustomed to shooting the world's most accurate firearms, they chose Kimber to build their competition pistols. Kimber is offering the same model–the Team Match II .45 ACP–to the public. Kimber donates $100 from the sale of each Team Match II to the Team.
At the shooting industry "Shot Show 2007" Kimber continued its strong support of USA Shooting, presenting the organization an additional $100,000 at the show. This brings Kimber's donations to USA Shooting to $500,000, based on sales of Kimber Team Match II .45 ACP pistols.
"It's very important to the industry to support our national shooting teams," said Leslie Edelman, Kimber owner and president. "They are very professional and represent us very well. Sales of the Team Match II have been much better than anyone's wildest expectations, and we're honored to continue our support of USA Shooting."

"The partnership we've forged with Kimber has far exceeded our hopes and expectations," said Leaha Wirth, director of marketing for USA Shooting. "The proceeds from the Team Match II pistol will go a long way toward helping our athletes bring home the gold. We simply couldn't be competitive internationally without help from our friends at Kimber."
In 2003, the LAPD chose a slightly modified and specially marked version of the "Custom II" as the standard handgun for its SWAT unit. Several other law enforcement agencies have approved Kimber firearms for on-duty carry by their patrol and SWAT officers.
Team Match II Features:
Overside 5-inch barrel fitted by hand in the Custom Shop for accuracy.
Kimber's adjustable sight with positive and responsive steel-on-steel click adjustment dials.
An 8-round magazine is standard with all Gold Match, Team Match and Target Match pistols.
Premium Aluminum Trigger is standard on all Gold Match and Team Match pistols. The Target Match has a solid match grade trigger.
All Gold Match, Team Match and Target Match pistols have an ambidextrous thumb safety.
Here are some photos of the barrel:
Specifications:
Height (inches) 90° to barrel: 5.5
Weight (ounces) with empty magazine: 38
Length (inches): 8.7
Magazine capacity: An 8-round magazine is standard with all Gold Match, Team Match and Target Match pistols.
Enlarged Magazine well
Ambidextrous thumb safety
Recoil spring (pounds): 16
Frame: Material: Stainless steel
Finish: Satin stainless steel
Width (inches): 1.28
Frontstrap checkering (30 LPI)
Slide: Material: Stainless steel
Finish: Satin stainless steel
Front serrations
Barrel: Steel match grade
Barrel Length (inches): 5
Stainless steel match grade bushing
Barrel Twist rate (left hand): 16
Sights: Kimber adjustable
Radius (inches): 6.8
Grips: Laminated USA Shooting
Trigger: Premium aluminum match grade
Factory trigger setting (approx. pounds): 3.5-4
Suggested Retail Price: $1403.00 (Team Match II .45 ACP)
You may be interested to know something about the Kimber company. I here reproduce the Wikipedia "Kimber" article…
Kimber is a manufacturer of M1911 pistols, rifles, and shotguns. The USA Shooting Team, Marines assigned to Special Operations Command and the LAPD SWAT team use Kimber pistols.

Kimber was founded as "Kimber of Oregon" in 1979 by Greg and Jack Warner in the small town of Colton, Oregon. The company quickly built a reputation for accurate .22 caliber rifles, began to expand its product line and eventually build a manufacturing plant in the nearby city of Clackamas. In the early 1990s, the company fell on hard times. Over the course of several years, Leslie Edelman acquired a majority interest in the company. Kimber of Oregon's financial situation did not improve significantly, ultimately leading to the closure of its facilities in Oregon in 1997.

In 1990 several Kimber employees left to found Cooper Firearms of Montana.

At the same time, Yonkers-based "Jerico Precision Manufacturing", a manufacturer of hand tools and mechanical components for the defense industry, was adjusting to cuts in defense spending. Edelman decided to connect Jerico Precision's existing infrastructure and manufacturing capabilities and Kimber's reputation and extensive network of dealers to build a line of 1911-style handguns. He eventually purchased Jerico Precision and renamed the business "Kimber of America".

A federal grand jury indicted former CFO Denis Shusterman for embezzling a total of $10 million from Kimber Manufacturing on December 9, 2004. He was later convicted after pleading guilty, ordered to pay damages and back taxes and sentenced to 14 years in federal prison.

Kimber is planning to expand its manufacturing capacity. Presently, it owns a 31,500 ft manufacturing facility in Ridgefield, NJ. A proposal to add more space to its Yonkers site had been approved as a "regionally significant project" but Kimber appears to have withdrawn its application following concerns raised by worried neighbors.

Kimber is known for its highly accurate 1911-style pistols, as well as for offering a variety of customization options. Early on, the company introduced the use of metal injection molding for some parts, such as the thumb safety, which makes them particularly durable and cost-effective to produce. The adoption of CAD and CAM technology were a priority due to the tight dimensions and low tolerances involved in producing firearms that are designed to be both accurate and reliable.[4] In 2005, Kimber manufactured a total of 47,820 production handguns. In 2006, Kimber added the KPD .40, a self-defense firearm chambered in .40 S&W, to its offerings.

Kimber has recently started selling side-by-side and over-and-under shotguns as well.

Non-lethal self-defense tools are also being sold under Kimber's "LifeAct" trademark. LifeActs are highly concentrated irritant high velocity incapacitating non lethal chemical weapons. One is very economical, where the other costs as much as a quality pistol. The ranges and effectiveness of the two differ. Since these non lethal weapons are effective at ranges where most handgun and knife encounters occur, they could be used to defend against such attacks. They are also useful for hikers in the wild to discourage aggressive animals.
DISASSEMBLY AND REASSEMBLY
I have owned semi-auto pistols by Ruger, Kel-Tec, Taurus and Glock, but never a 1911, and I found that the disassembly and reassembly procedures were somewhat different and more difficult. Directions for disassembly came in the little manual that accompanies each new Kimber pistol. The directions for disassembling 1911's in general may also be found here and there on the internet. Here's a very good pictorial discussion of disassembling a Taurus PT1911, which has a full length guide rod, like my Kimber. Another good guide is HERE. I suggest the 1911 Forums as a great source of general 1911 information. There is even a section just for Kimber firearms.
THE SWARTZ FIRING PIN SAFETY
The Kimber owner needs to be aware of the Swartz firing pin blocking safety mechanism while disassembling and reassembling his pistol. The Swartz safety is a pre-WW2 safety that was installed in Colt Commercial 1911 A1s.
The II designation in a Kimber's model name denotes the presence of the Swartz-type firing-pin block, resurrected by famed handgun designer Nehemiah Sirkis, who has been with Kimber for a few years now. It renders the gun "drop-safe," and working off the grip safety instead of the trigger mechanism, it does not in any way interfere with the quality or reliability of the pistol's trigger pull.
It is important that you NOT grip the grip safety while putting the slide on or off, or you may damage or shear off part of the safety mechanism.
It was known early on that a fully-loaded 1911 could accidentally fire if dropped muzzle-down on a hard surface. In 1937, William L. Swartz designed a 1911 firing pin safety with no connection to trigger components. It was operated by the action of the grip safety. The original firing pin safety idea goes all the way back to 1909, but it wasn't until Swartz received U.S. Patent 2,140,946 on December 29, 1938, that Colt put one in a production gun. During the late '30s, the Colt National Match .45 pistol and the .38 Super were the only two Colt guns with the Swartz safety. It was approved by the factory for use in all Government Model pistols, but the onset of World War II prevented its installation.
Colt adopted William Swartz's system and was in the process of phasing it in when WW2 broke out. The army didn't want the Swartz system in their pistols, as it wasn't present in the drawings approved by Ordnance from many years back. Adopting it would've required additional testing and approval which nobody had time for, plus it would create a problem with interchangeability with older pistols in the system.
Existing commercial pistols were bought up by the government and the Swartz components removed, and all military production was without the safety. Following World War Two Colt apparently decided the Swartz system added too much to the cost of the pistol and wasn't that necessary, so it was never revived. Part of the problem may have been the fact that the original Swartz system used a small rectangular hole for the matching safety plunger in the slide to pass through, which must have been very hard to machine. Today, examples with the Swartz safety are scarce collector's items, for Colt didn't make many. Kimber's system uses an oval hole and plunger.
In response to the needs of law enforcement agencies — which frequently mandate a firing pin safety –– Kimber brought back the Swartz design.
Their Series II pistols have an updated Swartz safety. Since the safety is keyed on the grip safety, if you were to fieldstrip the pistol and happened to depress the grip safety — something normally done when holding the pistol — you can't remove the slide. If you try to muscle it off, you will damage the slide and the safety mechanism, and your pistol will not fire.
The safety uses a simple push rod that rides atop the point of the grip safety. When the grip safety is depressed the rod is pushed up and lifts the firing pin block located in the slide. A "U" shaped block is lifted to release the firing pin.
It IS possible to remove the Swartz safety (see this link). Some people do this, but there may be legal ramifications (civil law suits) for those who have used their modified weapon in self-defense.
For a very extensive examination of the Swartz safety, see the American Rifleman article by Davis and Raynor here.
Read "Shark's" explanation here on the m1911 forum.
One begins disassembly by pushing in the recoil spring plug, and twisting the barrel bushing clockwise to release the plug and spring out the front of the slide.
Then you cock the hammer and push the slide rearward, line up the tab on the back of the slide stop with the disassembly notch, and then push the slide stop out of the pistol. (This was similar to the process with my Ruger P95.) You then ease the slide off the front of the frame, and remove the other parts.
Here are some shots of some of the internal parts.
Here you can see one of the major differences between the 1911 model, and the other semi-auto pistols I'm familiar with. The 1911 has a circular "throat" at the chamber end of the barrel, and the ramp is part of the frame. I polished both with some very fine emery cloth.
You can see the ramp here…
And here you can see the internal extractor quite well…
I had two slight difficulties in putting it back together again. The first was snapping the slide stop into place. (I had no problem getting the shaft of the slide stop through the holes in the slide and barrel link.) It wasn't really difficult, but never having done it before I was unsure about how hard to push on it. When I realized that it required a bit of force, there was really no problem. It snapped right in.
The second difficulty was in replacing the recoil spring and plug in the front of the slide, and then rotating the barrel bushing to hold in the plug. I found that this requires some muscle, and also some thick thumb skin, because the edge of the recoil plug is kind of sharp! All in all I spent about 40 minutes taking it apart, cleaning and oiling, and putting back together. I think this is fine for the first time, and I'm sure it will get faster and easier as time goes by and I do the procedure several times.
(I have ordered a "Slip 2000 Thumb Buddy" device, which I believe will make it MUCH EASIER to remove and replace the recoil plug and bushing.)
I'm not sure I like the sights on the Team Match II. I like the adjustable feature fine, but I'm wondering if the front sight wouldn't be better if it were colored with a white dot. Here's what you see while shooting the Team Match II.
RANGE REPORT
I took my Team Match II Kimber to the Prentice Cooper Wildlife Management Area Range today to test it. It was a cloudy, rainy day, and no one was there but me and a good ol' boy named "Mud," who was sighting in his new deer rifle. I ran 100 rounds of 230 grain FMJ hardball (50 of S and B, and 50 of Independence) through it, using all six of my magazines (twice each). I have two KimPro Tac mags, three Chip McCormick Power Mags, and the ordinary Kimber mag that came with the gun. All the mags functioned perfectly, every round fed and fired and ejected.
I shot at 12 yards, standing, off-hand, and put all the rounds into six-inch groups. I'm sure the Kimber would shoot much better from a rest, or in the hands of a better marksman.
Conclusion: This is a really nice, reliable and accurate firearm. For myself, I find it too large for concealed carry. Someone else may find it just fine for that. But for fun, for target shooting, or for home defense, it will do just great.
Thank you, Kimber!
About Mouse Guns:Marshall St John was an active gun blogger, second amendment supporter and occasional contributor to AmmoLand Shooting Sports News. Before his sudden passing Marshal blogged for many years in support of guns and gun rights. At his request we will be running many of his insightful articles from his website, www.mouseguns.com.