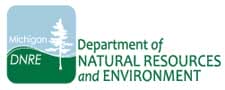 Michigan –-(Ammoland.com)- April 17 marks the 69th anniversary of the last day Michigan Conservation Officer Carlyle Smith was seen alive, the Department of Natural Resources announced today.
Carlyle Smith was born on October 29, 1895, in Clinton County. On April 17, 1943, Smith set out to patrol the Maple River in Gratiot County, checking for fishing lines set left unattended along the river. It is believed that his patrol boat capsized.
When Smith did not return home from his patrol, a massive search was initiated. Smith's body was found on May 11, south of the Maple River, between where he began his patrol at Bridgeville and where his boat, motor and patrol equipment were found three miles away.
The 48-year-old conservation officer died from overexertion and exposure, according to the coroner's report. He was a nine-year veteran of the department, survived by his wife, Helen, and 17-year-old daughter, Marilyn.
"Records from the time of Conservation Officer Carlyle Smith's employment indicate that he exemplified the traits necessary to be effective as a conservation officer," said DNR Law Enforcement Division Chief Gary Hagler. "Words used to describe him were 'fearlessness,' 'honesty,' 'fair play' and 'sense of obligation.' But these traits alone cannot shield one from the dangers of the profession. We will always remember those who made the ultimate sacrifice in the line of duty."
This year marks the 125th anniversary of conservation law enforcement. Smith is one of 12 fallen conservation officers whom the DNR will commemorate on May 15, when the department will dedicate a memorial to conservation officers who have died while protecting this state's natural resources and the citizens who enjoy them. Anyone wishing more information or to contribute to the construction of the memorial can find more information at www.mcoa-online.net.
The Michigan Department of Natural Resources is committed to the conservation, protection, management, use and enjoyment of the state's natural and cultural resources for current and future generations. For more information, go to www.michigan.gov/dnr.