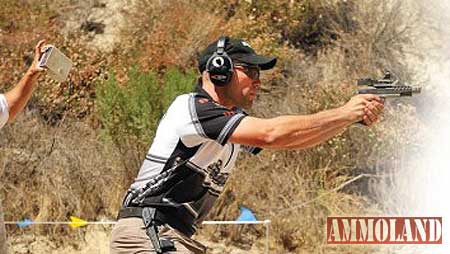 EXETER, NH –-(Ammoland.com)- Max Michel, Jr., solidified his reputation as one of the world's best steel shooters with a third-place finish in the Open Division at the United States National Steel Championship this weekend in Titusville, Fla.
The first major steel match of the season, the U.S Steel Nationals draws hundreds of shooters and fractions of a second can often separate competitors. The eight stages consist of four steel targets and a stop plate. Competitors must draw and engage each target before hitting the designated plate to stop the clock.
"My practice sessions leading up to the Steel Nationals went really well," Michel said. "With such a thin margin for error, I really have to focus on each aspect of shooting, from the draw to the sights to the trigger. Everything has to be as near perfect as possible to get the maximum speed out of each run."
Michel finished with a total time of 81.84 seconds for all eight stages. To put this time into perspective, Michel drew his pistol 39 times and hit 195 targets in that span. Michel finished just .76 of a second behind the top spot.
In the Rimfire Class, Michel scored a second-place finish in his first-ever run in the .22LR event. With a total time of 65.14 seconds, Michel was just .52 of a second off the leader.
Next up for Michel, will be a series of appearances at the SIG SAUER® booth at the NRA Annual Meetings in St. Louis, Mo. He'll be on hand to talk about the newest SIG SAUER products and will be doing demonstrations.
Michel returns to competition in mid-April at the United States Practical Shooting Association Area 6 Championship in Frostproof, Fla.
Become a fan of SIG SAUER on Facebook at http://www.facebook.com/SigSauerInc.
To follow Max Michel, Jr., visit http://www.sigsauer.com/TeamSig/MaxMichel.aspx.
Follow Max Michel, Jr., on Facebook at http://www.facebook.com/maxmichel.us.
About Max Michel, Jr.
By anyone's account, Max Michel, Jr., is one of the best shooters in the world. With three World Speed Shooting Championships (2009, 2007 and 2005), six USPSA National Championships (2011, 2009, 2007, 2006, 2005 and 2004), 3 U.S. Steel National Championships (2011, 2009 and 2008), 37 USPSA Area Championships, and nearly 100 Major Championship wins, Michel has become a dominant force in the pistol shooting sports. Michel also owns multiple World Speed Shooting records as well as the only Action Shooter to win all USPSA Area Championships in the same season (2010). As an international competitor, Michel has represented the United States in the last five International Practical Shooting Confederation (IPSC) World Shoots and returned home each time with team gold medals.
About SIG SAUER, Inc.
SIG SAUER, Inc. is the largest member of a worldwide business group of firearms manufacturers that includes SIG SAUER GmbH & Co. KG in Germany and Swiss Arms AG in Switzerland. This global network of companies gives SIG SAUER a world-class firearms knowledge base, unparalleled design expertise, and extensive manufacturing capacity, enabling the company to respond quickly and effectively to changing market conditions and the needs of its military, law enforcement, and commercial markets worldwide. SIG SAUER is an ISO 9001: 2008 certified company with over 500 employees. For more information on SIG SAUER, any of its products, or the SIG SAUER Academy™, log on to www.sigsauer.com.