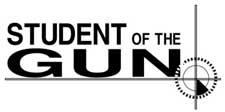 LUVERNE, AL –-(Ammoland.com)- During this week's episode we consider two unique pistols chambered in .45 caliber: the KRISS Special Duty Pistol and the Bond Arms USA Defender.
Using 21st Century technology, the KRISS SDP incorporates their patented "Super V" recoil reduction system. The Special Duty Pistol is chambered in .45ACP and fed with G21 standard and increased capacity magazines.
The Bond Arms USA Defender began as special offer collaboration between Bond Arms and Michael Savage and his "Savage Nation". Due to the tremendous success of the project Gordon Bond decided to make the USA Defender a regular catalog item. The stainless steel Defender is chambered to accept both .45 Long Colt and .410 shotgun shells in its twin over/under barrels.
During our Beyond the Band-Aid segment we take a moment to consider tourniquet selection and discuss the pros and cons of several ready-made versions. We have more material from the 2012 SHOT Show and Straight Shooting Tips from SIG Sauer and Max Michel. Student of the Gun airs every Sunday, Monday, and Thursday on the Sportsman Channel. Please check your local service provider for dates and times.
www.studentofthegun.com
www.thesportsmanchannel.com
Paul Markel c 2012
Follow Paul Markel at Student of the Gun.com and PaulMarkel.com. Look for Paul's new eBook "Student of the Gun; A beginner once, student for life." On sale now at BN.com and Smashword.com