COLORADO SPRINGS, Colo. –-(Ammoland.com)- Thirty-two USA Shooting Team Members are primed to compete in the "London Prepares" International Shooting Sports Federation (ISSF) World Cup when the action gets underway Thursday, April 19, from London.
More than 800 competitors from 97 countries are set to participate in the event, more than doubling the amount that will compete at the London Olympic Games when 390 shooters will have a start on the lines of the Royal Artillery Barracks range.
All fifteen of the ISSF Olympic shooting events – in the disciplines of Rifle, Pistol, and Shotgun shooting – will be conducted during the test event that runs through April 28.
Leading Team USA into the competition will be 14 Olympians including six who have already secured a spot on the 2012 U.S. Olympic Team for Shooting. All combined, the team has competed in 27 Olympic Games, earning 12 medals overall.
In Rifle, Matt Emmons (Browns Mills, N.J), a two-time Olympic medalist, will lead an experienced team that also includes Jason Parker (USAMU/Columbus, Ga.), a three-time Olympian, Eric Uptagrafft (USAMU/Phenix City, Ala.), a 1996 Olympian who will compete in London after a span of 16 years, Jamie Gray (Lebanon, Pa.), a fourth-place finisher at the 2008 Olympic Games, and Sandy Fong (New York, N.Y.), a 2008 Olympian.
"My primary goal is to just do research," said Emmons. "Of course, I'm going to try and compete hard and do the best that I can. But most importantly, I want to see what the range looks like and all the elements that will lend themselves to allowing me to perform at my very best in London. I'm looking forward to getting over there, taking it all in and then forming my plan for the Olympic Games."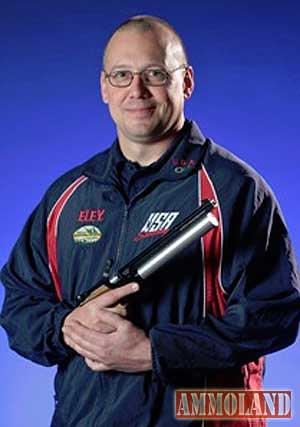 In Pistol, an experienced men's team includes Keith Sanderson (WCAP/Colorado Springs, Colo.), who was leading the field heading into the Rapid Fire Olympic final in Beijing before dropping to fifth, Emil Milev (Tampa, Fla.), a three-time Olympian and 1996 Olympic silver medalist for Bulgaria, Jason Turner (Rochester, N.Y.), a two-time Olympian and 2008 Olympic bronze medalist and Daryl Szarenski (Seale, Ala.) the elder statesman of the USA Shooting National Team who will compete in his fourth Olympic Games in London and has been a National Team member since 1993.
"For me, the London World Cup is the most important World Cup of the year if not the quad because I think it will build a familiarity with the range and what's going on around you. The more familiar you are with it the easier it is to perform at those high levels that you're really looking for," said Sanderson.

"I'm looking to make the final this time around so that when I hopefully make the final at the Olympics, then it will not have been the first time I shot a final at this venue. The way that I'm training seems to be pushing me in the right direction and the scores I'm seeing validate the way I'm training and hopefully it will keep going in the same direction."
Coming off a World Cup where the U.S. won five medals overall, the USA Shooting Shotgun Team is looking to ride that momentum well beyond London. In order to do so, National Shotgun Coach Bret Erickson will rely on the veteran leadership of four Olympic medalists including Kim Rhode (El Monte, Calif.), a four-time Olympic medalist now aiming to become the first U.S. athlete to win five medals in five consecutive Olympic Games, Vincent Hancock (USAMU/Eatonton, Ga.), reigning Olympic gold medalist in Men's Skeet, Glenn Eller (USAMU/Katy, Texas), the Olympic champion in Men's Double Trap, and Corey Cogdell (Eagle River, Alaska), an Olympic bronze medalist in Women's Trap and the recent winner of the Tucson World Cup. In addition, Jeff Holguin (USAMU/Yorba Linda, Calif.), a fourth-place finisher from the Beijing Games, and Ryan Hadden (USAMU/Pendleton, Ore.), the gold medalist in Men's Trap from the Tucson World Cup, will also bolster shotgun prospects for Team USA.
"We're feeling good about where we're at in our training plan and with the results of the Tucson World Cup serving as a good barometer as to where we stand," said Erickson. "However, this is a whole new test for our squad with far more quality top to bottom and we'll have to step up our game even more to be competitive. Ultimately, this is the time for us to acclimate ourselves with the range and use it to our advantage when it really counts."
The most notable absentee on the U.S. roster is 2010 World Champion Josh Richmond (Hillsgrove, Pa.), who is expecting the birth of his second child any day now and chose to withdraw from the competition. Richmond, a Staff Sergeant in the U.S. Army Marksmanship Unit (USAMU) has secured his spot on the U.S. Olympic Team in Double Trap and recently earned a bronze medal at the Tucson World Cup.
For a complete list of U.S. Team entries as well as entries for all other teams, click here: http://bit.ly/II9bhu
The Olympic venue, the Royal Artillery Barracks (RAB) Shooting Range, is set in a central area of the London Games – just minutes away from the Olympic Village -and will ensure a true Olympic experience for the participants.
The RAB venue, a temporary installation, is set in the heart of the Games and will remain as a milestone in the history of innovation for shooting sports. The Shotgun range will feature a state-of-art lead-recoil net, which will help to gather the lead and the targets are thrown at the three shotgun layouts.
On the Rifle and Pistol side, 10 ranges in all will be used for the 50-meter competition for the first time in order to promote efficiency.
Testing the innovative venue and refining their preparation in one of the last international shooting competitions before the Games, the best shooters in the world will participate in the event including almost all of the world's top-10 in each of the respective shooting disciplines.
The 2012 ISSF "London Prepares" World Cup schedule:
Thursday, April 19 Women's 10m Air Rifle, Women's 10m Air Pistol, M/W Skeet
Friday, April 20 Men's 10m Air Pistol, Women's Skeet, Men's Skeet
Saturday, April 21 Men's 10m Air Rifle, Men's Skeet
Sunday, April 22 Women's 25m Pistol
Monday, April 23 Men's 50m Rifle Prone, Men's Double Trap
Tuesday, April 24 Men's 50m Rifle Prone, Men's 50m Free Pistol
Wednesday, April 25 Men's 50m Free Pistol, M/W Trap, Women's 50m 3-position Rifle
Thursday, April 26 Women's 50m 3P Rifle, Women's Trap, Men's Trap, Men's 25m Rapid
Fire Pistol
Friday, April 27 Men's 25m Rapid Fire Pistol, Men's 50m 3-position Rifle, Men's Trap
Saturday, April 28 Men's 50m 3-position Rifle
* Bold/italics represent FINALS
---
About USA Shooting

USA Shooting, a 501c3 non-profit corporation, was chartered by the United States Olympic Committee as the National Governing Body for the sport of shooting in April 1995. USA Shooting's mission is to prepare American athletes to win Olympic medals, promote the shooting sports throughout the U.S. and govern the conduct of international shooting in the country. Check us out on the web at www.usashooting.org and on Twitter at twitter.com/USAShooting.