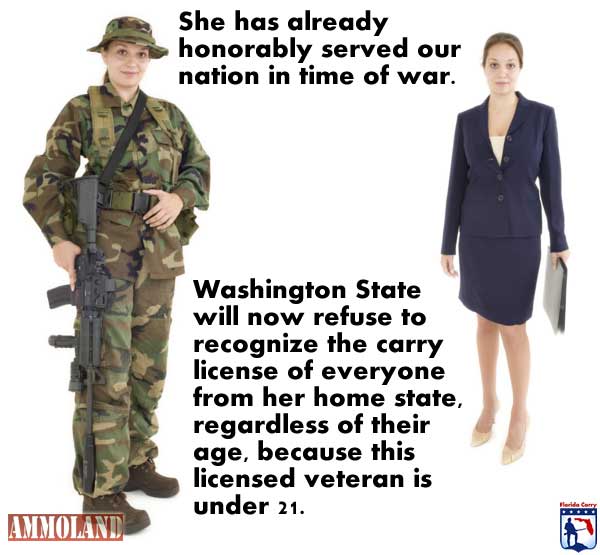 Florida – -(Ammoland.com)- Last week Florida Governor Rick Scott signed in to law a bill that now allows our Current Troops and Honorably Discharged Veterans to apply for a Concealed Carry License regardless of their age.
Because Florida now allows Military Members and Honorably Discharged Veterans under the age of 21 to apply for a Concealed Carry License, the State of Washington is poised to revoke reciprocal recognition of all Concealed Carry Licenses from Florida.
Washington has also refused to respect the right of all Texans to bear arms in their state because Texas also will issue Concealed Carry Licenses to our adult troops under 21.
As a result of this blatantly anti-military/anti-veteran discrimination, Florida will be forced to refuse to recognize Washington State's Concealed Carry Licenses until the Washington Legislature comes to its senses.
Urge your Washington State Legislators to respect our troops, the rights of all Floridians and Texans, and licensed Washingtonians who travel outside the state.
About:
Florida Carry is a non-profit, non-partisan, grassroots organization dedicated to advancing the fundamental civil right of all Floridians to keep and bear arms for self defense as guaranteed by the Second Amendment to the United States Constitution and Article I Section 8 of the Florida Constitution. Florida Carry, Inc. was organized by a group of Florida gun rights activists in order to better coordinate activities, effectively lobby the state legislature, and to provide a legal entity capable of filing suit to demand compliance with state and federal law. Florida Carry stands only to represent our members and the over 6 million gun owners of Florida. We are not beholden to any national organization's agenda that may compromise that mission.
Florida Carry works tirelessly toward repealing and striking down ill-conceived gun control laws that have been proven to provide safe havens to criminals and be deadly to law abiding citizens.
Florida Carry
www.FloridaCarry.org
Phone: 850-270-7486
Fax: 678-359-9816