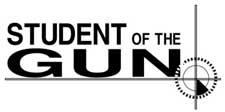 LUVERNE, AL –-(Ammoland.com)- We kick of the second half of the television season with a trip to Las Vegas for the 2012 Shooting Hunting and Outdoor Trade (SHOT) Show.
Viewers will get an insider's look at new firearms, optics, knives, and accessories.
John Bailey from EOTech will introduce us to the "Zombie Stopper" a holographic weapon sight with a redesigned reticle. Troy Storch from Midwest Industries gives us the lowdown on some of their new rail systems.
Steve Johnson introduces us to KaBar's full line of zombie knives and Ron Canfield of SureFire is on hand to talk about firearm suppressors and show off SureFire's new .22 Rimfire silencer.
As an added bonus, numerous pro-gun celebrities take a moment to let us know that they are indeed Student's of the Gun. Student of the Gun airs every Sunday, Monday, and Thursday on the Sportsman Channel. Please check your local service provider for dates and times.
www.studentofthegun.com
www.thesportsmanchannel.com
Paul Markel c 2012
Follow Paul Markel at Student of the Gun.com and PaulMarkel.com. Look for Paul's new eBook "Student of the Gun; A beginner once, student for life." On sale now at BN.com and Smashword.com