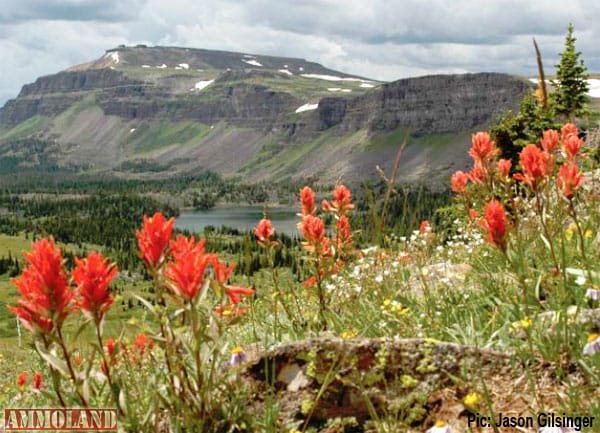 DENVER – -(Ammoland.com)- The release by the U.S. Forest Service of a final revision of the Colorado roadless rule elicited positive responses from members of the hunting and angling community, who while citing the need for final refinements called this version an "on-target" plan for managing more than 4 million acres of public lands, Backcountry Hunters and Anglers, the National Wildlife Federation and the Theodore Roosevelt Conservation Partnership announced today.
Agriculture Secretary Tom Vilsack and Colorado Gov. John Hickenlooper were in Denver this morning to formally announce the rule's final environmental impact statement, or FEIS, and outline the remaining steps to be taken before the book is closed on a management document whose development has spanned several years. The record of decision, which will complete the rulemaking process, can be signed 30 days after the issuance of the FEIS.
"Today's announcement moves us one step closer to a Colorado roadless rule that will direct the management of backcountry lands in the state," said TRCP Colorado Field Representative Nick Payne.

"Sportsmen applaud the rule's stronger safeguards for world-class hunting and fishing destinations in upper-tier lands such as Sugarloaf in the Routt National Forest and Hermosa in the San Juan National Forest. But rest assured: we will remain involved to address our remaining concerns with the rule, such as language allowing linear construction zones in upper tier lands to develop water projects and existing oil and gas leases that were issued with questionable stipulations."
The FEIS released today addresses some key concerns raised previously by members of the sportsmen's community, including allowances for power line corridors and inappropriate citing for energy development in upper-tier lands. Sportsmen were quick to acknowledge these improvements to the rule while reiterating their commitment to remain closely involved in rectifying its remaining shortfalls.
"Sportsmen can appreciate the value of our nation's backcountry lands better than most, and we believe that with some final modifications, the Colorado roadless rule will sustain our outdoor opportunities, fish and wildlife populations and small-town economies alike," said Tim Brass, BHA Colorado field representative. "We look forward to continuing to engage with state and federal decision makers in the next 30 days to implement needed refinements in this on-target plan for management of our valuable public lands."
The Colorado roadless rule is one of just two state-based roadless rules (the Idaho roadless rule was finalized in 2008) and has been in development since 2006. Today's announcement came six months after the 10th Circuit Court of Appeals upheld the 2001 Roadless Area Conservation Rule as the law of the land. Sportsmen applauded that decision and have called for the Colorado roadless rule to be as strong or stronger, on balance, as the national roadless rule.
"Coloradans have worked together for six years to strengthen and improve the Colorado roadless rule for the benefit of state's outdoor heritage," said Suzanne O'Neill, executive director of the Colorado Wildlife Federation. "As a result, the rule is greatly improved, and we look forward to, on balance, a successful end product for the future of more than 4 million acres of public lands. Sportsmen recognize we are close to a solution that will ensure the conservation of these irreplaceable landscapes."
"Hunters and anglers have worked to develop a Colorado-specific roadless rule that safeguards the state's most important fish and wildlife habitat," said, NWF Regional Representative John Gale. "Today's announcement takes a big step toward the finish line, but a few final issues need attention. We'll be working to refine the rule in the next month for the benefit of Colorado's world-class hunting and fishing."
---
About TRCP
Inspired by the legacy of Theodore Roosevelt, the TRCP is a coalition of organizations and grassroots partners working together to preserve the traditions of hunting and fishing.