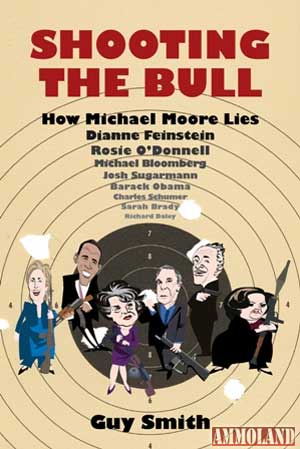 Washington, DC –-(Ammoland.com)- This message goes to all AmmoLand readers.
Shooting The Bull, my humorous book on propaganda analysis that uses the gun control industry as its case study, will be available for free on Thursday the 24th and Saturday the 26th for Kindle users, this includes pople who use Kindle apps on the iPads, PCs, cell phones and other gizmos.
Please let everyone know about this temporary giveaway (feel free to post the news on forums, websites, and pass this email along to you pro-gun list).
My goal is to make as many people smart about spotting and disecting propaganda as possible during the presidential election, and giving away copies of Shooting The Bull is a good start.
  Yours in Liberty
Guy Smith
About:
Gun Facts offers a free e-book that debunks common myths about gun control. It is intended as a reference guide for journalists, activists, politicians, and other people interested in restoring honesty to the debate about guns, crime, and the 2nd Amendment. Visit www.gunfacts.info