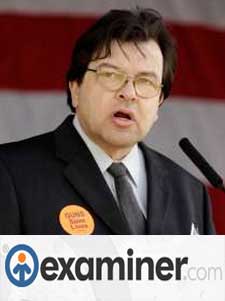 USA –-(Ammoland.com)- Trigger Sports TV will present a special panel discussion on guns in Mexico over several broadcast times this week on DIRECTV and DISH Network, a release from American Trigger Sports Network announced today.
"Host James B. Towle leads a round table discussion with guests discussing the latest gun issues," the announcement reports. Towle's guests for this program include Armed American Radio host Mark Walters, Barbara Crown, publisher and editor of The Hunting Report, and this correspondent.
View slideshow: American Trigger Sports Network TV Panel
This episode was actually recorded last year, as reported in a December Gun Rights Examiner column, but due to production and scheduling requirements is now being broadcast for the first time. A second program recorded at that time will be aired next week.
The show will be presented on DIRECTV (Channel 608 PRST) and DISH NETWORK (Channel 240 HUNT) on the Pursuit Channel. Show times, per the ATSN release, include "Tuesdays 1:30pm PST 4:30pm EST, Thursdays 10:00pm PST, [and] Fridays-Shooting Destination Night 6:00pm PST 9:00pm EST/ 1:00am EST."
Continue reading on Examiner.com http://www.examiner.com/article/guns-mexico-subject-of-tv-panel-that-includes-gun-rights-examiner
About David Codrea:
David Codrea is a long-time gun rights advocate who defiantly challenges the folly of citizen disarmament. He is a field editor for GUNS Magazine, and a blogger at The War on Guns: Notes from the Resistance. Read more at www.DavidCodrea.com.