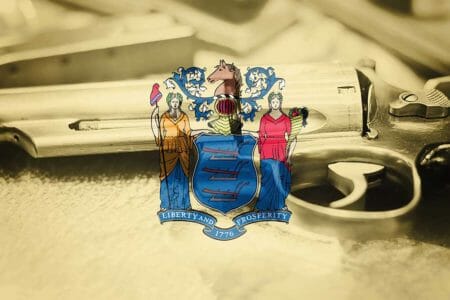 New Jersey –-(Ammoland.com)- Dan is very familiar to most of us in the 2A/RKBA community. He currently represents the NJ2AS in our successful Operation Establish Compliance (OEC) campaign.
This Wednesday, Dan will bring us up to date on the current status and future direction of OEC as well as other critical events affecting the restoration of 2A/RKBA in NJ. Dan is at the center of the 2A movement as he also represents the Association of New Jersey Rifle and Pistol Clubs in various matters including the fight to repeal One Gun A Month (OGAM). This will be an extremely informative presentation. I strongly encourage you to attend if at all possible.
As is customary, Dan will conduct an extensive Q&A session after the address. If you were fortunate enough to meet Dan at one of our previous meetings, you know how interesting his presentations are. If you have not already met Dan, this is your opportunity to do so. Please preregister for this FREE meeting. All are welcome and encouraged to attend (although preregistration is not required, it will assist us in processing you through the lines faster). THANK YOU!
THE NJ2AS NON-RESIDENT CCW LICENSING PROCESSING PROGRAM CONTINUES
Those of you interested in obtaining an out-of-state, non-resident CCW license can have all your processing done by the professionals at Gun For Hire Training Centers. Fingerprinting, photos, notarization, help with the application, etc. will be provided. For cost, prerequisites, and other information, please visit our site at www.nj2as.com. Please preregister and prepay for the CCW processing. Thank you.
THE LIST OF TOWNSHIPS AGREEING TO DISCONTINUE THE USE OF ADDITIONAL FORMS GROWS
As Operation Establish Compliance continues its campaign, we have been able to encourage the following New Jersey towns and municipalities to discontinue the use of their additional forms:
Egg Harbor Township
Hopatcong
West Long Branch
Asbury Park
Manalapan
Bayonne
OPERATION ESTABLISH COMPLIANCE REMOVES ADDITIONAL FORMS FROM MONMOUTH COUNTY – OCEAN COUNTY IS NEXT!
As you can see from the previous paragraph, Operation Establish Compliance is in full swing. It is more important than ever that you inform us of any cities, towns, or municipalities that are still requiring any additional forms other than those allowed by the NJ Firearms Statutes – STS-33, SP-66, or SBI-212A. It is our intention to ensure that additional forms are eliminated from every county in our State. At this point, Long Branch is the only remaining Monmouth County Township that is still using additional forms and we are working on changing that. If we have missed any towns in Monmouth County that are NOT in compliance, please let us know.
We are currently targeting all of Ocean County. Please inform us of any violations in Ocean County and elsewhere by emailing [email protected] Thank you for your continued participation in Operation Establish Compliance.
UPCOMING FUTURE EVENTS
Bob Viden is known by our members as the Vice President of the Association of NJ Rifle and Pistol Clubs, an NRA board member, and the owner of "Bob's Little Sport Shop", in south jersey. Bob has been an avid advocate of 2A/RKBA for too many years to count. He continues to be a standard-bearer for firearms rights in New Jersey and across the nation and is currently running for re-election to the board of directors of the NRA. If you haven't yet cast your vote, please be sure to consider Bob as your candidate of choice. He and Scott Bach are both endorsed by the NJ2AS. Bob will deliver his presentation at the South Jersey Shooting Club on 840 Piney Hollow Road in Winslow New Jersey on Wednesday June13, 2012.
Dennis Malloy, the famous media personality of the Dennis and Judy show with Judy Franco on NJ 101.5 Radio. Anyone who has listed to Dennis knows how much he values individual rights over those of the state. He has always demonstrated an understanding that the less the government interferes in our lives, the better off we are. I am sure that we can expect to hear the kind of perspective that we wish ALL media personalities would express. Dennis is scheduled to appear at our meeting on Wednesday, July 18, 2012, at American Legion Post 129 on 2025 Church Road in Toms River.
Alison McHose is the assemblywoman for NJ Legislative District 24. Assemblywoman McHose is a staunch supporter of the Second Amendment, RKBA, and individual liberty and responsibility. She has served in the General Assembly since 2003 and is currently the Deputy Minority Whip. Alison attended the 2008 Republican National Convention as a delegate from New Jersey and has held several leadership positions. She has distinguished herself as one of the most important Conservative Republican leaders in New Jersey. We are honored to have Assemblywoman McHose address our members and guests. Assemblywoman Alison McHose is scheduled to appear at our meeting on Wednesday August 22, 2012 at Gun For Hire Firearms training Center on 75 Rutgers Street in Belleville, NJ.
We have plans for some other special guests that we are still working on. Please feel free to make suggestions for speakers you would like to see appear at one of our meetings. If anyone has a connection to a speaker who would enhance our mission, please let me know. I am especially interested in finding speakers who are willing to travel to our south jersey meeting location at SJSC in Winslow.
Please consider making a donation to the New Jersey Second Amendment Society so that we can continue to represent you in our fight to restore and preserve the right to keep and bear arms in New Jersey and throughout this great nation.
THANK YOU!
Frank Jack Fiamingo
President – NJ2AS
---
About New Jersey Second Amendment Society

Our mission is to promote the free exercise of Second Amendment rights within the community and Legislature of New Jersey, to educate the community regarding the enjoyable, safe, and responsible use of firearms, and to engender a sense of camaraderie and fellowship among the members and their families. Visit: www.nj2as.com