As among the very best in outstanding local, regional, and cable television programs.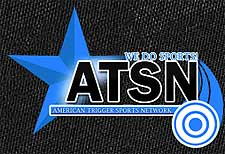 Houston, Texas –-(Ammoland.com)- The Winners of the 33rd Annual Telly Awards have been announced and American Trigger Sports Network (ATSN) was honored with two Silver Telly Awards, the highest honor, for outstanding television production.
With nearly 12,000 entries from 50 states and numerous countries, this year's Telly Awards has been one of the most competitive in history.
ATSN was honored in the TV Programs category for its latest new and original series, "Stop the Threat" highlighting the premiere episode entitled "The Jogger". This series has blasted on to the screen and been shot to popularity by viewers interested in how to prepare for the unexpected.
This series hosts a round table of expert guest panelists, moderated by host James B. Towle, as they analyze dramatic reenactments of life-threatening, real crime scenes.
ATSN was again honored in the TV Programs category for exclusive coverage of the 2012 Houston Liberty Festival, a sporting clays tournament benefiting "Homes for Our Troops" and hosted at the American Shooting Centers in Houston, Texas. Season 2, episode 11 aired on the ever-popular "ATSN Trigger Sports TV" aka "ATSN TV" television show, a series dedicated to shooting sports coverage in all categories and disciplines including but not limited to rifle, pistol, shotgun and archery competitions.
For its 33rd season, The Telly Awards once again joined forces with YouTube to give the public the power to view and rate videos submitted as part of the People's Telly Awards. ATSN shooters and fans voted online via ATSN's newsletter and via ATSN's Facebook fanpage available at www.facebook.com/atsntv.
It is thanks to ATSN's loyal viewers, fans, shooters, fellow outdoorsmen, and affiliates that ATSN can be grateful and proud to now be a four-time Telly Award Winner–adding these statuettes to previous wins from the 32nd Annual Telly Awards!
Sign up for ATSN's newsletter at www.ATSN.tv to be notified of upcoming re-airs of the winning episodes.
"The Telly Awards has a mission to honor the very best in film and video," said Linda Day, Executive Director of the Telly Awards. "ATSN's accomplishment illustrates their creativity, skill, and dedication to their craft and serves as a testament to great film and video production."
ATSN was born from the already popular radio series Trigger Sports Radio, hosted by James B. Towle. Towle wanted to bring the world of trigger sports to a whole new level by introducing a television show with exclusive coverage from shooting events around the country. Premiering as a live web television series entitled "Trigger Sports LIVE!", the network now also hosts two series available on DirecTV and DISH Network on the Pursuit Channel, "ATSN Trigger Sports TV" and "Stop the Threat" airing on Fridays at 6:00pm PST and 9:00pm EST.