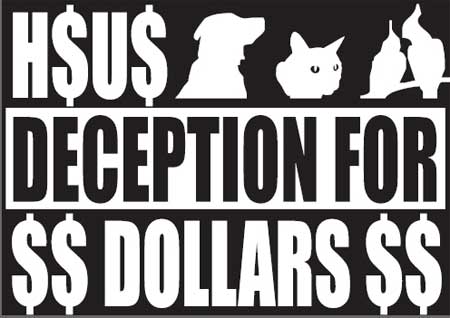 Columbus, OH –-(Ammoland.com)- The recently released Humane Society of the United States (HSUS) 2011 Annual Report reveals some interesting (and scary) facts that all hunters, anglers, trappers, and Americans should note.
Particularly, we seem to be on the verge of attack by attorneys seemingly under every rock.
Sportsmen everywhere should heed HSUS President Wayne Pacelle's comments on how they spend those cat coins and dog dollars collected under the guise of helping homeless animals:
"We are the best in the field at policy work and lobbying. We have a large and aggressive in-house litigation unit and more than 3,000 outside attorneys ready to do pro bono work for us," Pacelle boasts.
And fittingly the HSUS has about a dozen lawyers on its board of directors.
Not surprisingly, the 2011 HSUS Annual Report reveals that the Top Ten HSUS States are: California, Texas, Illinois, Massachusetts, Michigan, Ohio, Pennsylvania, New Jersey, Florida, and New York.
See any correlation between those states and the HSUS efforts to stop hunting, trapping, bowhunting, dove hunting, and other sportsmen's interests in those states?
The report is at: http://hsus.typepad.com/wayne/2012/05/2011-annual-report.html
---
About U.S. Sportsmen's Alliance

The U.S. Sportsmen's Alliance is a national association of sportsmen and sportsmen's organizations that protects the rights of hunters, anglers and trappers in the courts, legislatures, at the ballot, in Congress and through public education programs. Visit www.ussportsmen.org.