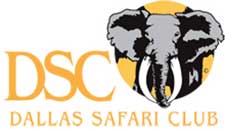 DALLAS, TX – —-(Ammoland.com)- Dallas Safari Club (DSC) is celebrating the 40th anniversary of its founding—as well as its 30th year as an independent organization advocating for wildlife, wild places and hunters around the world.
It was 1982 when DSC, originally formed as a chapter of a different club, re-launched with its own mission, governance and fundraising.
Over time, the fledgling outfit became a powerful force in its own right for global sporting and conservation issues. Millions of dollars in grants have been awarded—including more than $1 million in 2012 alone—for worthy causes across the planet, as well as within DSC's home state.
"Texans have always been fiercely independent," said Ben Carter, DSC executive director. "Our early leaders believed that DSC could be an effective conduit for hunters from Dallas and around Texas who wanted to give something back to the outdoors. Through the years, our club's local independence and spirit and values began to appeal to more and more people. As we grew, over half of our members came from outside the Dallas area."
Today, DSC has members from around the nation and across the planet.
Hundreds of DSC volunteers fuel a convention and expo, always held the first Thursday-thru-Sunday in January, that serve as the organization's premier fundraiser.
At early conventions, booth space was given away for free to entice outfitters to come to the show. This year, the event set four new records with a total of 1,401 exhibits, 425,000 square feet of expo space, 39,000 attendees and $1,004,200 netted for DSC's conservation, education and hunter advocacy efforts.
DSC members stay connected through two award-winning publications, the full-color quarterly magazine "Game Trails" and monthly newsletter "Camp Talk."
In a recent DSC newsletter, club president Richard Cheatham wrote, "Our organization has a deep, rich history and so much to be proud of. But we didn't get here by accident. In order to fully appreciate what the club has become, and the opportunities and obligations that lie before us, it is critical to know and appreciate the history of the club, the thoughts, mindset and forward-thinking of the founders, and of those who have helped shape and mold the club for the past 40 years.
Cheatham specifically mentioned Bob Harper, John Estes, Tommy Caruthers, Lacy Harber, Dr. Truman Clem, Jim Lewis, David Watkins, Jerry Peterman, Greg Bond, Roger Hooper, Dr. Richard Allen, Coenraad Vermaak, Dixie Yeatts, Frank Sweeney, Patti Roberson and Christine Bond among DSC's early and current devotees.
Learn more about DSC at www.biggame.org.
About Dallas Safari Club (DSC)
Desert bighorns on an unbroken landscape, stalking Cape buffalo in heavy brush, students discovering conservation. DSC works to guarantee a future for all these and much more. An independent organization since 1982, DSC has become an international leader in conserving wildlife and wilderness lands, educating youth and the general public, and promoting and protecting the rights and interests of hunters worldwide. Get involved at www.biggame.org.