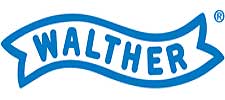 FORT SMITH, AR –-(Ammoland.com)- Industry veteran, Cyndi Flannigan, has been named Vice President of Sales & Marketing for the newly formed Walther Arms, Inc.
Flannigan joins Walther Arms with an extremely distinguished and successful career that spans two iconic brands in the shooting sports industry, most recently as Director of Sales for Leupold & Stevens.
Prior to Leupold, Flannigan represented Hornady Manufacturing in various sales management roles. Flannigan is also a past President of the Women's Shooting Sports Foundation, a past member of the Board of Directors of the 4-H Shooting Sports Foundation, and current President of the Youth Shooting Sports Alliance (YSSA) Board of Directors.
"Walther is a brand with a tremendous reputation for innovation and quality and has been highly respected in the industry for generations," said Flannigan, "While I will always be very appreciative of my time at Leupold & Stevens, I'm excited to begin this new venture with a fantastic brand and a new set of products and opportunities."
In her new responsibilities, Flannigan will lead all sales and marketing related efforts for the newly formed Walther Arms, Inc. She assumes responsibilities July 9, 2012 and will work with the company's President, Adam Blalock, in building top tier teams focused on meeting the needs of Walther's U.S. consumers and trade customers with quality and innovative products and services.
"We are excited that Cyndi has accepted this key leadership role within Walther Arms. She has proven success in the industry and I'm confident that her customer and service focused approach will contribute to the foundation of Walther Arms and the future success of Walther," said Blalock.
Flannigan will be focused on establishing the foundation of Walther Arms, Inc. in preparation for the January 1, 2013 date when Walther Arms will begin sales, marketing and distribution of Walther branded products in the U.S.
Walther has been renowned throughout the world for its innovation since Carl Walther and his son, Fritz, created the first semiautomatic pistol in the year 1886. Today, the innovative spirit of its founders lives on as Walther celebrates 125 years as one of the world's leading manufacturers of sporting, defense and law enforcement firearms. For more information visit www.carl-walther.de.