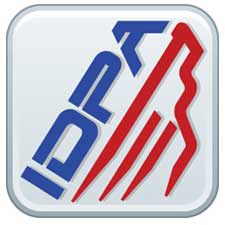 OXFORD, N.C. –-(Ammoland.com)- Gregg Kratochvil is among the country's top revolver shooters and proved it once again this past weekend with his Stock Service Revolver title win at the IDPA Carolina Cup in Oxford, N.C.
Kratochvil, who is ranked a Master in the SSR division, battled fellow SSR Master Tom Becker throughout the match. The two swapped the lead multiple times as each took turns claiming stage wins with Kratochvil winning seven stages to Becker's eight.
In the end, Kratochvil took the title with a strong performance on stage 16, where he outpaced Becker by 8.12 points to finish with a final score of 312.50 to Becker's 320.90.
"The battle for the SSR division title was a real strong head-to-head match up between two outstanding wheelgunners, coming down to who could outshoot who on one of the match's most decisive stages," said Joyce Wilson, executive director of IDPA. "Congratulations to both Gregg and Tom on their outstanding shooting."
In the Expert class, Will Williamson finished first with a score of 392.62. Carl Mason took first Sharpshooter in the SSR division with 404.93, while Richard Von Furstenberg claimed first Marksman with his final score of 465.94.
The 2012 Carolina Cup was held June 14-16 at The Range in Oxford and drew 359 competitors from 24 states and Puerto Rico, as well as five foreign nations. For more information on the match, or to review the full results, visit www.The-CarolinaCup.com.
The International Defensive Pistol Association is the international governing body for IDPA competition, which offers shooters a fun, safe, and challenging format to practice and test their gun handling skills through defensive-based scenarios.
To find a club near you, join the more than 20,000 members of IDPA, or just learn more about this exciting and fun defensive pistol shooting sport, visit www.IDPA.com. You can also follow @OfficialIDPA on Twitter, like ShootIDPA on Facebook, watch IDPA TV, or check out the Down Zero Blog to keep up with the latest news.