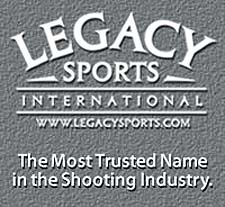 Reno, NV –-(Ammoland.com)- Legacy Sports International, LLC announces the addition of Ed Dinkins as Director of Purchasing.
Ed possesses a highly qualified and diverse background, all of which has been in the sporting goods industry.
Over the past 40+ years, he has held positions in customer service, merchandising and operations, as well as having run his own consult- ing firm.
Ed has started sporting goods retail chains as well as grown the business of ex- isting companies.
He was most recently VP General Merchandising for Bass Pro Shops.
Ed and his wife Cindy will be relocating to Reno in the next few weeks. Ed enjoys hunting, fishing and NASCAR®. They have two adult children.
Legacy Sports International is an importer of firearms and shooting accessories. Bringing in high quality, reliable and affordable products for shooting and hunting enthusiasts is the mission of Legacy Sports' business.
With well-respected brands including Howa and Puma rifles, Escort shotguns, ISSC pistols and rifles and Citadel handguns and shotguns, Legacy Sports is committed to offer today's shooting sports en- thusiast performance on the range and in the field.
Legacy's track record proves – with- out a doubt – that they have consistently provided accurate rifles and shotguns as well as award-winning optics for sportsmen on a budget.
This is why Legacy Sports is known as "The Most Trusted Name in the Shooting Industry".
Visit: www.legacysports.com