At Sharper Future Awards Breakfast at BLADE Show.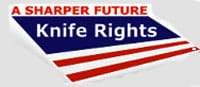 Atlanta, GA –-(Ammoland.com)- Knife Rights is pleased to announce that Mike "Mikey" Vellekamp is the recipient of its 2012 Freedom's Point Award which was presented at the Knife Rights Sharper Future Awards Breakfast on June 9th during BLADE Show in Atlanta, Georgia. Mr. Vellekamp is a co-founder, co-owner and designer at Fox Knives USA, a knife manufacturer and importer based in Puyallup, Washington.
The annual Freedom's Point Award honors an individual citizen or citizens who has/have demonstrated their commitment to a Sharper Future™ by leadership in the fight to protect or enhance our knife rights.
Knife Rights Chairman Doug Ritter said, "Mikey is being recognized for his personal initiative in addressing Washington state's burdensome and irrational switchblade statute that also technically outlawed assisted-opening knives and outlawed the manufacture of both assisted-opening knives and automatic knives in the state. Mikey didn't just complain and wait for someone else to fix the problem, he did something about it. This is exactly the sort of initiative that the Freedom's Point award hopes to encourage."

Ritter continued, "Knife Rights was only too happy to provide assistance, including sending our lobbyist to the state capitol to assist in getting the bill revised to accomplish the desired ends. Knife Rights stands ready to help all those who work to roll back irrational knife laws or oppose proposed restrictions."
Knife Rights (www.KnifeRights.org) is America's Grassroots Knife Owners Organization™, working towards a Sharper Future™ for all knife owners. Knife Rights is dedicated to providing knife owners an effective voice in public policy.
About:
Knife Rights (www.KnifeRights.org) is America's Grassroots Knife Owners Organization, working towards a Sharper Future for all knife owners. Knife Rights is dedicated to providing knife owners an effective voice in public policy. Become a Knife Rights member and make a contribution to support the fight for your knife rights. Visit www.kniferights.org