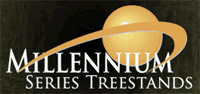 Pearl, Mississippi –-(Ammoland.com)- There is just something special about sharing your outdoor experience with a family member or friend, which is exactly why Millennium Treestands has designed the perfect setup for you and your favorite hunting buddy.
Both the Millennium L200 and L220 double ladder stands are carefully constructed for comfort and efficiency.
Weighing only 95 pounds, the L200 features double rails on the ladder that require no braces to the tree, making it much safer and easier to put up than a single-rail ladder. Boasting a 500-pound weight capacity, the L200 comes fully equipped with an adjustable shooting rail and folding foot rests.
The L200's durable, soft and supportive ComfortMax seat allows you to sit comfortably for hours while you wait on that big buck to appear.
With a platform that is W 40″ D 18″ and the two included TMA certified full body harnesses, you will be able to sit at ease and enjoy the breeze or whatever may come your way.
The L220 is sure to follow the success of the L200 as a favorite for two-person hunts. Weighing 103 pounds, the L220 has all of the standard features of the L200, but with a platform that is twice as big as the L200. The L220's full-size platform and folding ComfortMax Seat make standing shots with a gun or bow a breeze. Like the L200, the L220 features a fully adjustable shooting rail and folding footrest.
The L200 and L220 are also height adjsutable. Simply remove one or more of the ladder sections to customize your height from 7 to 18 feet. A 3-year limited warranty is also included with both stands, although once you try either one out, you will agree it's doubtful you'll never need it.
Features at a glance:
· Durable powder coat finish
· Comfortable, quiet, easy setup
· Strong steel construction
· Double rail rigid ladder
· Easy lineup ladder sleeves
· Adjustable padded shooting rail
· Stabilizing strap
· Folding footrest
· 2 TMA certified Full Body Harnesses
· 3 Year Limited Warranty
· Silent Hunt Design
· ComfortMax Seat
· Steel Tough Construction
For more information visit them online at http://www.millenniumstands.com/products