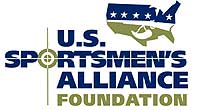 Columbus, OH –-(Ammoland.com)- If you stopped in or passed by one of the 34 Cabela's stores across America on June 9th, you probably saw a large number of kids and families present.
Those crowds —more than 10,000 strong— were the result of an innovative program.
The one-day event was the Family Outdoor Day featuring the Trailblazer Adventure program—created by Cabela's and the U.S. Sportsmen's Alliance Foundation. The Cabela's exclusive events were designed to help families prepare for a fun summer of outdoor recreation and camping while also introducing kids to shooting, fishing, trapping, conservation and more.
"Cabela's and USSAF hoped this inaugural Family Outdoor Day would encourage families to come together and spend quality time participating in outdoor activities. From the turnout and response, it's clear that's exactly what happened," said Matt Kettler, Cabela's Marketing Manager.

"Thousands of children participated in USSAF's unique Trailblazer programs during the event, which was great because it got them involved in outdoor recreation. Because the event was so successful, we plan to host an even better Family Outdoor Day in 2013."
The special one-day event offered camping and outdoor gear displays for the entire family to explore, plus air rifle shooting, fishing and casting, archery areas, and other conservation-themed displays. Some stores also had ATV test rides and at one location a chef was making chocolate chip cookies in a Dutch oven. Those cookies were crowd pleasers—and so was the event. Approximately 1,000 volunteers from conservation clubs and other groups made the day possible.
"This was a historical undertaking by the Trailblazer Adventure Program and we couldn't have asked for a better partner than Cabela's," noted Derrek Shively, U.S. Sportsmen's Alliance Foundation education director. "Plans are already being prepared for next year's events. With several new Cabela's stores set to open this year and early next year, more families will find activities within driving distance of their homes."
Individual Cabela stores could easily see the benefit of the day.
"This was a huge success!" reports Emily Dietman, a Cabela's Retail Events and Marketing Manager in Buda, Texas. "The energy was bustling inside and outside the store. We appreciated having Trailblazer here."
The events were managed in cooperation with each Cabela's store events coordinator by USSAF staff members from Columbus, Ohio and by USSAF field directors from around America. The events were free and open to the public.
To find a Cabela's store near you, visit the locator:http://tiny.cc/2cibgw. You can enter your zip code to complete a search. To learn more about the U.S. Sportsmen's Alliance Foundation Trailblazer Adventure program visit: www.trailblazeradventure.org.