QF Senior Field Coordinator Pete Berthelsen is the day's plenary speaker.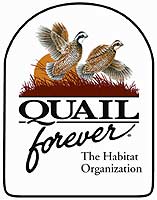 Columbia, Mo. –-(Ammoland.com)- Quail Forever (QF) and partners will be participating in the 2012 Bobwhite Quail and Native Pollinator Field Day at the University of Missouri Bradford Research and Extension Center on June 21 from 1pm – 7pm.
Designed for landowners, students, quail and native plant enthusiasts, this free workshop will educate the public on quail management and restoration techniques taking place in Missouri and throughout the country.
"This field day will be perfect for people who want to brush up on their quail management techniques or for those who want to learn how to become active in quail management," says Elsa Gallagher, Quail Forever Missouri Regional Wildlife Biologist, "We've proven time and time again that with proper habitat management, we can create quail numbers, and proper habitat management starts with the proper habitat knowledge, which is exactly what attendees will find at this event."
Quail Forever and Pheasants Forever (PF) Senior Field Coordinator Pete Berthelsen will be the plenary speaker, presenting"Why Pollinator Habitat and Native Pollinators Can be the Key to Your Quail Habitat Management Success." not only do pollinators like honey bees, butterflies, and beetles play a critical role in bringing food to the table, but they also provide important ecosystem support, including quail and pheasant habitat, wildlife viewing, local revenues, and basic wildland stability.
"It's easy to overlook the significance of pollinators. They're small, quiet and often categorized as a nuisance insect. However, it's time we take pollinators seriously," says Berthelsen, "As a hunter, pollinator habitat will put more birds in my game vest. As an American consumer, pollinators are critical to the price of food and even our ability as a nation to produce food. It's honestly difficult to overestimate the importance of addressing pollinator habitat immediately."
Other activities will include quail management demonstrations and classroom techniques on ATV weed spraying, tree planting, bird dog training, predator effects on bird populations, prescribed burning and quail ecology. In addition, the field day will consist of one-hour field tours that include both walking tours describing landscaping and pollinators with native plants; and wagon tours discussing field borders, edge feathering practices, creating quail and pollinator habitat, and implementing wildlife practices from a private landowner's perspective.
Be sure to arrive at 1pm to take part in the field demonstrations. The plenary speaker's session begins at 3pm after the field demonstrations and before the wagon tours. A free meal will be served after the wagon tours.
Directions: From the junction of U.S. 63 and Hwy AC on the south edge of Columbia, go 5.5 miles east on New Haven Road, turn right (south) on Rangeline Road and go just over a mile to the Bradford Farm entrance on the right.
Missouri is home to 22 Quail Forever chapters, 5 Pheasants Forever chapters and combined over 3,000 QF/PF members. For more information regarding the 2012 Bobwhite Quail and Native Pollinator Field Day or Quail Forever in Missouri, please contact Elsa Gallagher at (573) 680-7115 or Email Elsa. For all other inquiries, please contact Rehan Nana, Quail Forever Public Relations Specialist, at (651) 209-4973 or Email Rehan.
Pheasants Forever and its quail division, Quail Forever, is the nation's largest nonprofit organization dedicated to upland habitat conservation. Combined, Pheasants Forever and Quail Forever have more than 130,000 members and 700 local chapters across the United States and Canada. Chapters are empowered to determine how 100 percent of their locally raised conservation funds are spent, the only national conservation organization that operates through this truly grassroots structure.