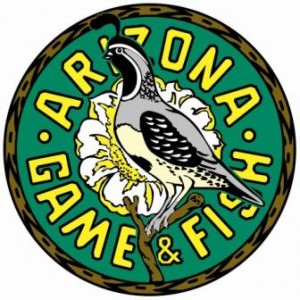 PHOENIX, AZ – -(Ammoland.com)- The Arizona Game and Fish Department, in cooperation with the Dolly Steamboat and the Arizona Desert Bighorn Sheep Society, is hosting a workshop for the public to view and learn more about one of Arizona's iconic species — desert bighorn sheep.
The workshop consists of two parts. The first is an evening classroom session where participants learn about bighorn sheep, their natural history, management, and historical significance from a Game and Fish biologist. The classroom session will take place on Friday, July 13 from 7 p.m. to 9 p.m. at Game and Fish's regional office located at 7200 E. University in Mesa.
The second part of the workshop is a morning tour on Canyon Lake aboard the Dolly Steamboat. The on-the-water portion of the workshop will provide participants an opportunity to view sheep in their native environment accompanied by expert wildlife biologists and members of the Arizona Desert Bighorn Sheep Society. The boat ride will begin at 8 a.m. on Saturday, July 14 and last three hours.
"In June, bighorn sheep stay pretty close to water," said John Dickson, wildlife manager in the Canyon Lake District. "The hotter it is, the better the opportunity will be to see the sheep along the water's edge."
The workshops are open to the public on a first-come, first-served basis. Space is limited to 139 people, the number of passengers the boat can hold. The cost is $30 per person and $27 for those over 60 years of age. To register, call the Dolly Steamboat at (480) 827-9144.
Participants are strongly encouraged to attend the classroom program to enhance the viewing opportunity the following day. To reserve your space for the classroom presentation, call Randy Babb at (480) 324-3546. The classroom program is limited to 70 people due to facility restrictions.
Participants are encouraged to bring a camera, hat, sunglasses, sunscreen, and binoculars. Snacks and drinks may be purchased from the Dolly Steamboat.
"It will be hot on the lake," Dickson advised, "but that's when bighorn come down for a drink. There is limited shade on the boats, and the temperatures will likely be in the triple digits."
Anyone with questions about the workshop may contact Randy Babb at (480) 324-3546 or e-mail [email protected]