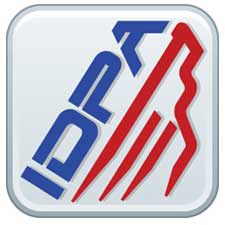 OXFORD, N.C. –-(Ammoland.com)- With her High Lady win at this weekend's IDPA Carolina Cup, Team Comp-Tac's Randi Rogers is not just the dominant woman shooter in IDPA but one win away from a perfect season.
Rogers placed sixth among the Master class, and seventh overall, in the Stock Service Pistol (SSP) division with a score of 261.61. The win gives Rogers her third straight High Lady title at the Carolina Cup, but more importantly marks her third High Lady win of the 2012 IDPA season putting her one win away from a perfect run.
Earlier this year Rogers claimed High Lady at the Smith & Wesson IDPA Indoor Nationals as well as at the IDPA European Cup. Only a win at the IDPA National Championships remains for Rogers to complete her perfect season.
"Randi is clearly on a roll with her third straight Carolina Cup High Lady win. Add this to her High Lady victories earlier this season and you can see why she's the top ranked woman in our sport," said Joyce Wilson, executive director of IDPA.
Elsewhere in the Stock Service Pistol division, Bob Vogel, a Distinguished Master, won the division title with a final score of 183.63, placing him high overall for the second year in a row. Rob Tate of Team RangeLog took first Master and second overall behind Vogel with 215.80. Craig Grivois took first in the Expert class with 275.80, followed by Norman Wisniewski taking top honors in the Marksman class with 404.28, and Glock's Ed Fitzgerald finishing first in the Novice class with 490.91.
The 2012 Carolina Cup was held June 14-16 at The Range in Oxford and drew 359 competitors from 24 states and Puerto Rico, as well as five foreign nations. For more information on the match, or to review the full results, visit www.The-CarolinaCup.com.
The International Defensive Pistol Association is the international governing body for IDPA competition, which offers shooters a fun, safe, and challenging format to practice and test their gun handling skills through defensive-based scenarios.
To find a club near you, join the more than 20,000 members of IDPA, or just learn more about this exciting and fun defensive pistol shooting sport, visit www.IDPA.com. You can also follow @OfficialIDPA on Twitter, like ShootIDPA on Facebook, watch IDPA TV, or check out the Down Zero Blog to keep up with the latest news.