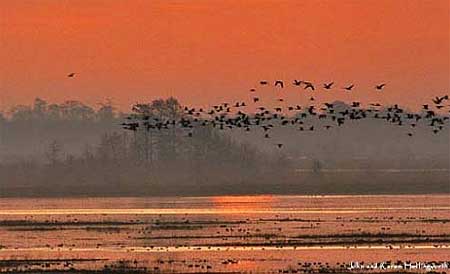 Washington, DC –-(Ammoland.com)- Secretary of the Interior Ken Salazar and Director of the U.S. Fish and Wildlife Service Dan Ashe announced that the Migratory Bird Conservation Commission has approved more than $1.3 million from the Migratory Bird Conservation Fund to protect an estimated 1,368 acres of waterfowl habitat on three units of the National Wildlife Refuge System.
The commission also approved more than $25 million in federal grants through the North American Wetlands Conservation Act (NAWCA) to support public-private partnership activities that will conserve more than 144,000 acres of wetlands and associated habitats in the United States and Canada.
"With these acquisitions and grants, we are strengthening our wetlands protection though the National Wildlife Refuge System and in other key waterfowl and wildlife habitat throughout North America," Salazar said. "Thanks to the contributions of hunters and others who purchase Duck Stamps, our National Wildlife Refuge System continues to the best in the world and keeps important habitat 'open for business' for our nation's wildlife."

"Wetlands are vital landscapes for our nation's birds and other wildlife who rest, feed and breed there throughout the year," said Ashe. "In addition to benefiting wildlife, wetlands provide countless benefits to people, including water quality maintenance, erosion control, flood protection, and recreational opportunities for public and private landowners."
The commission approved the protection of wetland habitat through land acquisition and purchase of easements on three units of the National Wildlife Refuge System as breeding, resting and feeding habitat, as well as the disposal of 35 acres of easement.
These acquisitions and approvals to continue to lease wetland habitat parcels are funded with proceeds from sales of the Migratory Bird Hunting and Conservation Stamp, otherwise known as the Federal Duck Stamp.
They include:
Trinity River National Wildlife Refuge, Texas — 88 acres in fee; $88,200. This proposed addition is largely bottomland hardwood forest, most of which lies in the oxbow of the Trinity River. Wood ducks, mallards, gadwall, American wigeons, green- and blue-winged teal, and mottled ducks all use the wetlands.
Panther Swamp National Wildlife Refuge, Mississippi — 640-acre School Board lease; 5-year lease at $19,200 per year. This Refuge contains both seasonally flooded and permanent wetlands, including bottomland hardwoods as well as cypress-tupelo swamps. This is excellent habitat for a variety of waterfowl.
Lacassine National Wildlife Refuge, Louisiana — 640-acre School Board lease; 5-year lease at $25,600 per year. The leased area lies within the Lacassine Pool area; large numbers of waterfowl use the area to feed and rest. The refuge is working with the Cameron Parish School Board to work out an exchange for this section of land.
Rocky Mountain Arsenal National Wildlife Refuge, Colorado – Disposing of 35 acres of easement on an abandoned water canal; value to be determined. The abandoned canal stopped carrying water almost ten years ago, and the Refuge has since found another source of recycled water. It is Service policy to dispose of property or interests in property that are excess to our needs.
The commission also approved more than $22.3 million in grants through the NAWCA Standard Grants Program to support six Canadian projects that will benefit ducks, geese, and other migratory birds on more than 134,000 acres in 12 provinces and territories. Partners will contribute at least $22.3 million in matching non-federal dollars toward these projects.
Projects funded in Canada with NAWCA Standard Grants in fiscal year 2012 include:
Grantee: Nature Conservancy of Canada
Work will be undertaken in the Northern Appalachian/Acadian Ecoregion in New Brunswick, Nova Scotia and Prince Edward Island and the Boreal Shield Ecoregion in Newfoundland and Labrador. The objective is to expand on success realized through partnerships with agricultural interests to conserve critical habitats in working agricultural landscapes though the development and implementation of sustainable, waterfowl-friendly land use practices.
Grantee: Ducks Unlimited Canada
This project will support waterfowl production, molting and staging in the Prairie Habitat Joint Venture. Other associated migratory birds and species at risk will also benefit from the habitats conserved. Activities are set to support the longer term habitat goals of the joint venture. In addition, executing conservation actions outlined in this proposal will result in the conservation of critical boreal habitats.
During the meeting, the commission also heard a presentation summarizing 44 projects that were previously approved for funding by the North American Wetlands Conservation Council under the NAWCA U.S. Small Grants Program.
These grant awards total more than $2.8 million in federal funds. Partners will contribute more than $7.3 million in matching funds toward these projects, which will protect and enhance 10,500 acres of wetlands and associated habitats in 23 states from Maine to California.
Each year, the commission pre-approves the total amount of funding to be distributed to Small Grants projects in the next fiscal year. Final project selection authority is delegated to the council, which then reports its selections back to the commission. For fiscal year 2012, the commission authorized up to $5 million to fund projects under the Small Grants program. Examples of projects funded with NAWCA Small Grants in fiscal year 2012 include:
Grantee: Avalonia Land Conservancy, Inc.
The Avalonia Land Conservancy will acquire two parcels totaling 73 acres, a portion of the 200-acre Bell Cedar Swamp in North Stonington. Project goals include protecting rare Atlantic white cedar habitat and associated wildlife; enhancing protection of adjacent wetland systems; preserving important drinking water supplies; generating wildlife-oriented research and recreation opportunities; and preserving local historic heritage. This project supports broader goals of conserving forest blocks and wildlife corridors in the region.
Grantee: Pheasants Forever
The purpose of this project is to restore and protect grassland and riparian wetland habitats in the Wapsipinicon River watershed. This effort will protect a "prairie stream" by acquiring additional riparian habitat and creating a four-acre upland wetland within the corridor. Waterfowl, grassland nesting birds and many species that use riparian habitat will benefit from this project.
Grantee: U.S. Fish and Wildlife Service
This project will restore small wetlands on a series of federal wetland easements in northwestern Minnesota. The sites are permanently protected habitat easements restored by the Service's Private Lands program. The project will benefit the statewide strategy for wildlife conservation and habitat protection.
Grantee: Texas Parks and Wildlife Department
Partners will improve 150 feet of existing levee and install a culvert and water control structure at the location of an existing levee break on Alazan Bayou Wildlife Management Area, allowing Texas Parks and Wildlife to draw-down water from approximately 154 acres of bottomland hardwood forest and shrub-scrub swamp during the growing season and hold water in the wetland during the winter. Benefits to waterfowl will include improved management capabilities to improve wetland conditions in this historic roost-site and foraging area in which ducks, storks, spoonbill, ibis, egrets and herons have been observed. Partners will also acquire a 51-acre tract that provides foraging habitat for mallards, wood ducks and other dabbling ducks, and is used as brood habitat for wood ducks.
Migratory Bird Conservation Commission members include Senators Thad Cochran of Mississippi and Mark Pryor of Arkansas, Representatives John Dingell of Michigan and Robert Wittman of Virginia, Secretary of Agriculture Tom Vilsack and Environmental Protection Agency Administrator Lisa P. Jackson, as well as state representatives serving as ex-officio members who vote on projects located within their respective states.
Passed in 1989, NAWCA provides matching grants to organizations and individuals who have developed partnerships to carry out wetlands conservation projects in the United States, Canada, and Mexico. More information about the approved NAWCA grant projects is available at: http://www.fws.gov/birdhabitat/Grants/NAWCA/index.shtm
About:
The mission of the U.S. Fish and Wildlife Service is working with others to conserve, protect and enhance fish, wildlife, plants and their habitats for the continuing benefit of the American people. We are both a leader and trusted partner in fish and wildlife conservation, known for our scientific excellence, stewardship of lands and natural resources, dedicated professionals and commitment to public service. For more information on our work and the people who make it happen, visit www.fws.gov.