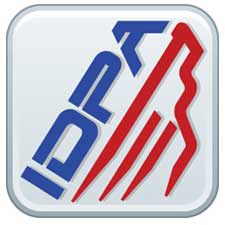 OXFORD, N.C. –-(Ammoland.com)- Bob Vogel hasn't lost a major IDPA match since late 2007, including this past weekend when, for the second time in a row, he claimed the Stock Service Pistol (SSP) division title at the 2012 Carolina Cup.
With a final score of 183.63, Vogel dominated the field of 143 SSP shooters. The Distinguished Master class shooter and Panteao Productions shooting team member outpaced his nearest competitor, Team RangeLog's Rob Tate, by 32.17 points, shooting clean on seven stages and winning 13 of the 16 stages.
"Bob's performance at this weekend's Carolina Cup was nothing short of amazing," said Joyce Wilson, executive director of IDPA. "Not only did he successfully defend his 2011 title win, but in doing so Bob has extended his IDPA major match win streak to 12, which started back in 2007 at the IDPA National Championship."
Tate, who won one stage in the match, finished first Master in the SSP division with a score of 215.80, earning him first Master honors. Nicholas Yanutola, who also won a single stage, took second Master (224.54), followed by Team Panteao's Tom Yost, third Master (227.56), David McDonald, fourth Master (254.03), and Team Comp-Tac's Gregg Garrett, fifth Master (257.22).
Finishing sixth Master, and seventh overall, with a score of 261.61 was Randi Rogers of Team Comp-Tac who won the Carolina Cup's High Lady title for the third year in a row.
Elsewhere in the Stock Service Pistol division, Craig Grivois took first in the Expert class with 275.80, followed by Norman Wisniewski taking top honors in the Marksman class with 404.28, and Glock's Ed Fitzgerald finishing first in the Novice class with 490.91.
The 2012 Carolina Cup was held June 14-16 at The Range in Oxford and drew 359 competitors from 24 states and Puerto Rico, as well as five foreign nations. For more information on the match, or to review the full results, visit www.The-CarolinaCup.com.
The International Defensive Pistol Association is the international governing body for IDPA competition, which offers shooters a fun, safe, and challenging format to practice and test their gun handling skills through defensive-based scenarios.
To find a club near you, join the more than 20,000 members of IDPA, or just learn more about this exciting and fun defensive pistol shooting sport, visit www.IDPA.com. You can also follow @OfficialIDPA on Twitter, like ShootIDPA on Facebook, watch IDPA TV, or check out the Down Zero Blog to keep up with the latest news.