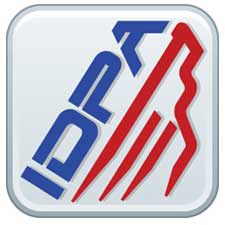 OXFORD, N.C. – -(Ammoland.com)- Brandon Wright, captain of the International Training, Inc. shooting team (Team ITI), won eight of 16 stages at the 2012 IDPA Carolina Cup in Oxford, N.C. to win the Enhanced Service Pistol title.
Wright, who finished second overall among all shooters in all divisions, outpaced his nearest competitor in the ESP division's Master class, Ravin Perry of Team RangeLog, by 9.5 points, to take the title with his final score of 207.84.
"Brandon shot an outstanding match, putting in a solid performance across a very difficult course of fire on his way to taking the ESP division title and placing second overall," noted Joyce Wilson, executive director of IDPA.
Perry, who took top honors on one stage, finished first Master with 217.34. Team Comp-Tac's Gordon Carrell placed second Master with two stage wins and a final score of 221.55. Team ITI's Morgan Allen finished third Master with four stage wins and a score of 223.38. Rounding out the top five was Scott Warren with one stage win and a score of 231.79 to take fourth Master.
Costa Rica's Miguel Gamboa, who finished fifth Master and seventh overall in the division, took home the High International title with 236.80.
Elsewhere in the division, Russell Poole, III was the first Expert with 233.81, followed by Noah Teal claiming the first Sharpshooter title with 297.26, and Michael Haskin winning ESP's first Marksman award with 374.38.
The 2012 Carolina Cup was held June 14-16 at The Range in Oxford and drew 359 competitors from 24 states and Puerto Rico, as well as five foreign nations. For more information on the match, or to review the full results, visit www.The-CarolinaCup.com.
The International Defensive Pistol Association is the international governing body for IDPA competition, which offers shooters a fun, safe, and challenging format to practice and test their gun handling skills through defensive-based scenarios.
To find a club near you, join the more than 20,000 members of IDPA, or just learn more about this exciting and fun defensive pistol shooting sport, visit www.IDPA.com. You can also follow @OfficialIDPA on Twitter, like ShootIDPA on Facebook, watch IDPA TV, or check out the Down Zero Blog to keep up with the latest news.