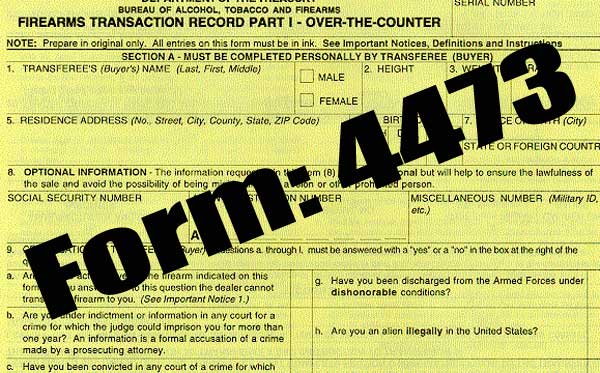 Washington, DC –-(Ammoland.com)- It has come to the attention of ATF that as of July 6, 2012, every Federal firearms licensee (FFL) has not received a packet of the Revised ATF Forms 4473, April 2012 edition.
To ensure that you are utilizing the correct version of the form, you may print the Revised ATF F 4473 at http://www.atf.gov/forms/download/atf-f-4473-1.pdf.
Please be sure to copy all six pages of the form and staple them together if you elect to use a printed or photocopied version of the form.
The Bureau of Alcohol, Tobacco, Firearms, and Explosives (ATF) has revised ATF Form 4473, which will become effective on July 9, 2012.
The revised Form 4473 is consistent with the current legal interpretation relating to firearms disabilities for certain nonimmigrant aliens.
The prohibitions on transfer and possession of firearms and ammunition apply only to nonimmigrant aliens who were admitted to the United States under a nonimmigrant visa, and the prohibitions do not apply to nonimmigrant aliens who lawfully entered the United States without a visa.
In addition, proof of 90 days of continuous residency is no longer required for any alien. Please review the entire revised Form 4473 including all of the Important Notices, Instructions to Transferee/Buyer, Instructions to Transferor/Seller, and Definitions.
In addition, on July 9, 2012, the revised e-Form 4473 application will be posted and available for download. All FFLs must ensure that they are using the correct e-Form 4473 version on that date.
ATF F 4473 (April 2012 Edition)
Notice to All Federal Firearms Licensees
Q&As
---