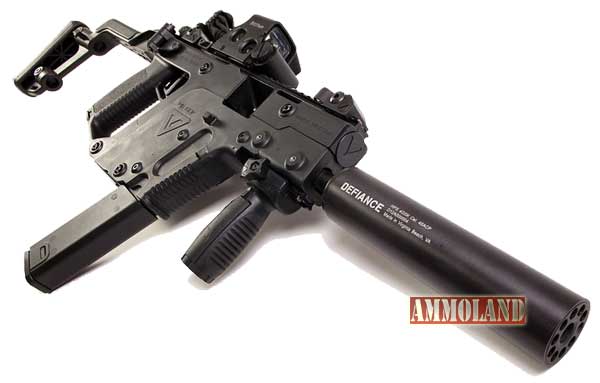 Nyon, Switzerland –-(Ammoland.com)- DEFIANCE, a manufacturer of optimized accessories for operators and professionals, announce the release of the first DEFIANCE Suppressor designed for use with the KRISS Vector family of firearms and is compatible with all KRISS SMG, SBR, and SDP firearms (supports M16x1 LH threaded .45 ACP models).DEFIANCE HPS on VECTOR Firearm
The DEFIANCE HPS 4GSK Cal. 45 ACP incorporates an internal baffle system consisting of two steel and three aluminum baffles strategically stacked to minimize sound and maximize suppressor service life. Constructed of T6 aluminum with a Type III MIL-SPEC black hard-anodized coating and tool steel with a QPQ coating at the threaded end, the DEFIANCE HPS highly resists scratching and corrosion.
The suppressor body and internal systems are all CNC machined from high-grade aluminum and steel alloys for long-term durability and long-life reliability. Available in .45 ACP, the DEFIANCE HPS 4GSK weighs just over a pound at 1.1 lbs. (500 grams) and is 7.7 inches in length (197.5mm) and 1.79 inches in diameter (45.5mm).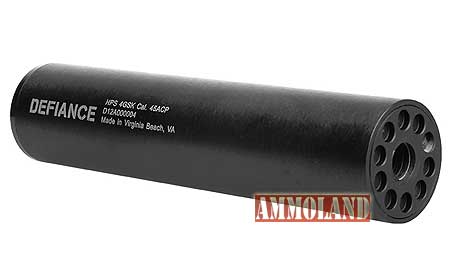 ---
About DEFIANCE

DEFIANCE® supports operators and professionals with precision-engineered and highly optimized accessories to support their missions and training requirements. DEFIANCE® products are engineered and designed in Switzerland and manufactured in both Switzerland and Virginia Beach, Virginia. KRISS USA, Inc. is the exclusive distributor for DEFIANCE® products in North America.