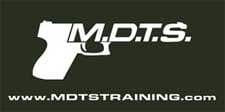 Utica, NY –-(Ammoland.com)- This is the first of a monthly online skill overview and drill demonstration video.
It is intended as a review resource for those who have attended an MDTS class or for those who cannot make it to a class to have a quick and easy drill to work on at the range.
It is NOT intended to be an "instructional" video.
Every couple weeks we will put out a new vid demo focused on a new skill with all drill parameters outlined so you can go practice the drill on your own. Go practice and let us know what you think so we can determine if this project is valuable enough to the community to continue forward with.
"First Shot" Drill.
Skill: Build rapid sight acquisition and rapid first round on target
Drill Parameters:
7 yards
8″ target
0.8 par time
Modified Low Ready Position- muzzle depressed just enough to see subjects hands or bottom of target, looking over optic
About Chris:
Chris Fry is the owner and director of training and curriculum development for Modern Defensive Training Systems in Utica, N.Y. where he conducts courses in reality driven practical combatives skills, extreme close quarters physical defense, tactical folding knife and edged weapon combatives and combative pistol, carbine and shotgun skills. MDTS offers a variety of courses for responsible citizens, corporations, law enforcement and the U.S. Military with a singular goal of providing up to date, realistic and practical personal protection training. Visit: www.mdtstraining.com