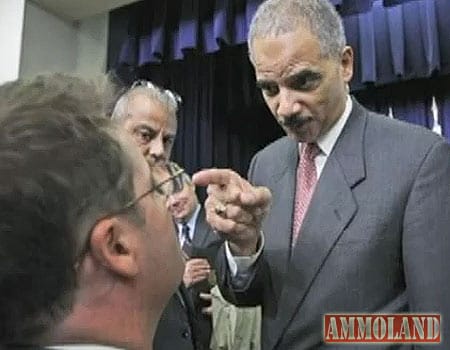 Charlotte, NC –-(Ammoland.com)- On Thursday, June 28, the U.S. House of Representatives passed a resolution holding Attorney General Eric H. Holder, Jr. in contempt of Congress for failing to turn over subpoenaed documents about his department's response to the "Fast and Furious" operation by the Bureau of Alcohol, Tobacco, Firearms and Explosives.
The resolution passed by a bipartisan vote of 255 to 67.  Late today, Deputy Attorney General James Cole announced, in a letter to House Speaker John Boehner, that the Department of Justice would not prosecute Holder. This leaves civil enforcement–authorized by a separate House vote Thursday–as the only likely avenue for Congress to enforce the subpoena.
"Attorney General Eric Holder has a long career of opposition to the Second Amendment," said Wayne LaPierre, executive vice president of the NRA.  "His refusal to disclose what many suspect is another example of anti-Second Amendment behavior has brought him to this historic moment of resistance and shame.  The people of this country will not be denied a clear understanding of what transpired behind closed doors over a period of years that sure looks like it is connected to a political agenda."
Obama administration officials and the Department of Justice openly defied the U.S. House Committee on Oversight and Government Reform's legitimate requests for documents regarding one of the most deadly and disastrous fiascos in the history of American law enforcement, one which claimed the lives of Border Patrol agent Brian Terry and I.C.E agent Jaime Zapata.  And in a historically unprecedented maneuver, President Obama claimed executive privilege to justify withholding Justice Department deliberations from a congressional subpoena.  The American people and the Terry family deserve the truth in this matter, not continued stonewalling from Attorney General Holder or bogus claims of executive privilege from President Obama.
"The NRA fully supports this necessary, though ultimately disappointing, action to find Attorney General Holder in contempt of Congress.  He has stood in the way of justice long enough and the contempt charge is appropriate," added Chris W. Cox, executive director of NRA's Institute for Legislative Action.  "The NRA's support of this historic resolution is born out of our sincere belief that the American people deserve public servants who tell the truth.  The Obama administration knows what happened, they've got the papers, and the reason they won't release them is they don't want the American public to know the truth."
President Obama, Attorney General Holder, and other senior administration officials perpetuated the lie that "90 percent" of firearms used in Mexican crime come from the U.S. and seized on the deadly violence in Mexico to promote their gun control agenda in the United States.  The White House actively sought information from the operation to support its plan to demand reporting of multiple rifle sales by the nearly 9,000 federally licensed firearm dealers in border states.
"We applaud this vote and hope it brings us closer to the truth so rightly deserved by the families of Brian Terry, Jaime Zapata, and the American people," concluded LaPierre.
The Floor Debate
Many House members contributed to moving this serious issue to the floor.  The House Republican leadership, including Speaker John Boehner and Majority Leader Eric Cantor, deserve special thanks. In a move that showed the seriousness of the proceedings, Speaker Boehner took to the floor to speak out in favor of the resolution. "Now, I don't take this matter lightly," he said. "I, frankly, hoped it would never come to this. The House's focus is on jobs and on the economy. But no Justice Department is above the law, and no Justice Department is above the Constitution, which each of us has sworn an oath to uphold."
Oversight and Government Reform Chairman Darrell Issa (R-Calif.) spoke clearly on why the documents were needed to explain the Justice Department's early denial of "gunwalking": "If our committee is able to receive the documents in totality that show who brought about the dishonest statement to Congress and who covered it up for 10 months, we believe that will allow us to backtrack to the individuals who ultimately believed in 'Fast and Furious,' facilitated 'Fast and Furious,' and ultimately made it responsible for Brian Terry's death."
During the debate, Chairman Issa also inserted in the Congressional Record a letter that contains detailed descriptions of previously unreleased wiretap applications. The materials make clear–contrary to Attorney General Holder's testimony last year–that in early 2010, top DOJ officials had been thoroughly informed about details of the operation, such as BATFE agents' knowledge that hundreds of guns were being transported to Mexico without interference from agents, and that dozens of guns had already been recovered in Mexico.
Rep. Rich Nugent (R- Fla.) deserves thanks for overseeing the approval of the rule that provided for the consideration of the contempt resolution.  In support of approving the rule, he said "But beyond all of that–beyond floor schedules and expiring authorizations, we're left with this truth: Border Patrol Agent Brian Terry was shot on December 14, 2010, and died of those injuries the next day. His family has been looking for answers about what led up to and caused his death for over a year and a half. If we can do anything to answer those questions, then we cannot and should not do anything to make them wait any longer–not another month, not another day, not another hour."
During the debate, many House members spoke out for the need to protect not just the oversight authority of Congress, but also the basic rule of law.
Rep. Trey Gowdy (R-S.C.) presented a crystal-clear case why the resolution was vital despite the Justice Department's claims of willingness to compromise: "For those of you who want a negotiation, a compromise, an extraordinary accommodation, to use the Attorney General's words, for those of you who want to plea bargain, my question to you is simply this: Will you settle for 75 percent of the truth? Is 50 percent of the truth enough for you? Is a third? Or do you want it all? Because if you want all the truth, then you want all the documents."
The debate also included emotional appeals by opponents to reject the resolution–most of them smoke screens and some of them outright irrational.
Rep. Elijah Cummings (D-Md.) repeatedly and wrongly claimed that the operation had started under President George W. Bush, and called the investigation of the disaster "an election-year witch hunt." Another resolution opponent, Minority Whip Steny Hoyer (D-Md.) characterized the 18-month investigation that included numerous committee hearings in both bodies of Congress as "extraordinarily superficial."
And not to be outdone, Minority Leader Nancy Pelosi (D-Calif.) repeated her unfounded accusation that the contempt resolution was about other issues: "It may just be a coincidence–I don't know–that the Attorney General of the United States, the chief legal officer of our country, has a responsibility to fight voter suppression, which is going on in our country; has refused to defend the constitutionality of DOMA because he doesn't believe it's constitutional; or has some major disagreements on immigration, which fall under the enforcement of immigration law."
And finally, of course, Del. Eleanor Holmes Norton (D-D.C.) blamed the whole affair on the NRA. "Any doubt that today's contempt resolution is political was put to rest when the NRA joined in to blowtorch vulnerable Democrats to vote for contempt today," she claimed. "The gun lobby is directly responsible for the gap in Federal law that allowed the straw purchases of guns here that were taken to Mexico, ultimately resulting in the tragic death of a border agent."
Apparently, Ms. Norton has forgotten that it was the BATFE that told gun dealers to sell guns to suspicious customers, and that chose not to track or interdict the guns. And it was the Obama administration, not the NRA, that refused to comply with a congressional subpoena.
In the Media: Up is Down and Night is Day
In support of Holder and his congressional allies this week was an obviously coordinated media campaign, aimed at rewriting the history of "Fast and Furious" and smearing the whistleblowing BATFE agents who alerted Congress to the scandal.
In an article published the day before the vote and written by a former Bill Clinton campaign operative, Fortune claimed that virtually everything we know about this disaster–after more than a year of investigations by House and Senate committees and by every media outlet in the country that's dared to touch the issue–is false. Tellingly, many of Fortune's sources were agents "speaking out for the first time." (Another BATFE official, who had not previously spoken to the media, gave an interview that appeared in the Washington Post the day of the vote.)
In its piece, Fortune claimed:
That Agent John Dodson and other whistleblowers who brought the operation to light were actually rogue agents who jeopardized their careers at the BATFE just to settle scores over petty disputes with a supervisor–who happens to be Fortune's main source and the "hero" of the article.
That Agent Dodson had actually (in a separate and much smaller case) advocated using the same tactics he risked his career to denounce in "Fast and Furious." What's more believable: Fortune's version, or Agent Dodson's explanation that he proposed the tactic on orders of his supervisor, who was also in charge of "Fast and Furious"?
That gun prosecutions were thwarted by a pro-gun federal prosecutor, even though that prosecutor worked for U.S. Attorney Dennis Burke, who had a long record of anti-gun activity on Capitol Hill and in the Clinton White House.
Most outrageously, if these allegations are true, the Justice Department itself falsely admitted that "gunwalking" tactics were used–for example, when Attorney General Holder acknowledged that in his Nov. 8, 2011 testimony–even though the embarrassing admission deepened the congressional investigation. And if the Justice Department was wrong to rescind the Feb. 2011 letter denying that "gunwalking" occurred," the subpoenaed documents concerning that letter should show that. If the documents might exonerate the administration, why are the White House and Justice Department fighting so hard against releasing them?
Fortune also repeats a string of lies about the larger context of "Fast and Furious":
That the real problem is weak gun laws, including the lack of "a real-time database of gun sales"–in other words, national gun registration. It should be no surprise that Fortune points to that when there are already at least three emails proving that the BATFE wanted to use information from "Fast and Furious" to support its border-state registration scheme for multiple rifle sales.
That it's "nearly impossible" to bring cases against straw purchasers–even though the BATFE website contains dozens of press releases announcing the arrest, conviction, and sentencing of straw purchasers.
That straw purchasing penalties are "minimal." Here are the penalties Fortunecalls "minimal":

Any statement to a licensed dealer that is "intended or likely" to deceive the dealer about the legality of a sale is punishable by up to 10 years in prison.
"Knowingly making any false statement" in a dealer's records–such as falsely claiming on a transfer form that you are the actual buyer–is punishable by up to 5 years in prison.

That "2,000 weapons are smuggled daily from the U.S. into Mexico." There is no credible source for this figure. If it were true, smuggling to Mexico would account for 730,000 guns a year–nearly a tenth of the guns produced in the U.S. or imported here every year. That's obviously impossible.
Another recurring claim this week was that "gunwalking" began under the Bush administration. In reality, there is no parallel between "Fast and Furious" and earlier operations such as "Wide Receiver." Specifically:
In "Wide Receiver," the Mexican government was informed and involved and was supposed to interdict the guns as they were tracked into Mexico. In "Fast & Furious," the Mexican government was never informed and was never called on to interdict any of the guns.
The guns lost in the "Wide Receiver" program were lost primarily by the Mexican authorities, or due to the failure of electronic tracking devices. In "Fast & Furious," agents were specifically ordered to end surveillance.
"Wide Receiver" was shut down when BATFE officials learned of the lost guns.  It took the death of Brian Terry to shut down "Fast & Furious."
"Wide Receiver" involved a few hundred guns, most of which were recovered. The program nevertheless was considered a failure by BATFE officials and was terminated for that reason.  "Fast & Furious" involved thousands of guns, the bulk of which are still at large.
There may be conflicting stories about a few issues, but the bottom line is simple: The truth needs to come out. That won't happen until the Obama White House and Holder Justice Department stop stonewalling, either voluntarily or through enforcement of the contempt resolution.
---
About NRA-ILA

Established in 1975, the Institute for Legislative Action (ILA) is the "lobbying" arm of the National Rifle Association of America. ILA is responsible for preserving the right of all law-abiding individuals in the legislative, political, and legal arenas, to purchase, possess and use firearms for legitimate purposes as guaranteed by the Second Amendment to the U.S. Constitution. Visit: www.nra.org