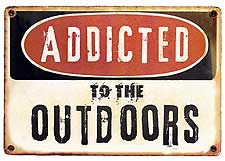 PORTSMOUTH, NH –-(Ammoland.com)- This week on Addicted to the Outdoors (ATTO), Jon and Gina Brunson help headline the much-anticipated Country Goes Huntin' benefit concert and turkey hunt, a hugely popular charity event that has become one of the Brunsons' favorite events of the year.
Jon, Gina and all other attendees at Country Goes Huntin' relish the opportunity to hang out, cut up, chase turkeys and raise money for some excellent charities.
According to the Country Goes Huntin' Website, the event was the brainchild of childhood friends Sam Klement and Rhett Akins, and was designed to bring together two Southern passions-country music and hunting-to make a difference in people's lives.
Jon, Gina and other the top hunting pros and country music artists come together in Dothan, Alabama each year to raise money for people less fortunate. Everyone travels at their own expense, and no one is paid for their time or effort. The pro hunters take the singers on a multi-day turkey hunt, and at the end of the last day, the country stars perform a benefit concert for the public. All money from the ticket sales, online auctions and proceeds from other items sold are put into a huge pot, which is divided among all the participating celebrities' charities.
In recent years, a considerable amount of money has been raised for charities such as the Wiregrass Children's Home, the Georgia Sheriffs Association, Wheelin' Sportsmen, The Arthritis Foundation, and the American Cancer Society.
Tune in and check out this fun-filled turkey hunt for a great cause!
Join Jon and Gina Brunson on their reality-based outdoor show as they travel the world chasing big game. In 2007, Jon and Gina packed their six children into an RV for a Florida to South Dakota road trip and whitetail hunt. It was the first show for their newest venture, Addicted to the Outdoors, which features a revolutionary format that takes viewers along with them as they pursue all sorts of game. Choosing a name for the new show was easy, since Jon, Gina and their children are all Addicted to the Outdoors.
Are they living the dream? Yes, their particular dream, where a man, his wife and their children together explore those wandering streams and forested trails of the outdoors.
Learn more at www.wildcomm.com/addictedtotheoutdoors and www.addictedtotheoutdoors.com.
2012 Quarter 3 Weekly Show Lineup
Week 6: Indiana whitetails
Week 7: Monster Missouri whitetails
Week 8: Kansas/Iowa whitetail doubleheader
Week 9: Florida turkey/hog/bowfishing combo
Week 10: Africa Safari Part II
Week 11: Illinois whitetails
Week 12: Kentucky catfish noodlin'
Week 13: Season 5 Sizzle Reel
Outdoor Channel Airtimes
Wednesday 11:00 a.m. EST
Thursday 6:00 p.m. EST
Sunday 5:00 p.m. EST