 New Jersey –-(Ammoland.com)- We need to begin an additional campaign.
I will be looking for people to form a crack team of writers who will be responsible for crafting DAILY "Letters to the Editor" supporting the exercise of the right to keep and bear arms.
We are currently in the process of creating a list of all the relevant papers we want to approach on a daily basis. We have not been doing enough to tell our side of the story. The goal will be to express ourselves as the rational free individuals we are and to describe what real gun ownership is all about.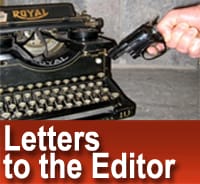 We can talk about all the procedures we are subjected to. We can talk about the training we attend, the safety courses we absorb, the responsibility we take for keeping ourselves and our families safe. If this is something you would like to be involved in, please contact Alexander P. Roubian. I will establish an email address for him tomorrow as [email protected] This is something you can work on whenever you have some spare time. You can be as flexible as you like. The only requirement is that you be willing to contribute a letter at least once a week (more if you are able).
Alexander and I will provide some guidance if you are unsure about things like length and format, etc. You do NOT have to be an extraordinary writer. Remember, these are coming from normal everyday gun owners. I think you get the idea. This is an important project, so please consider if you would like to help. There are a LOT of papers in New Jersey we can hit, as well as blogs and other venues. THANK YOU!
Frank Jack Fiamingo
President – NJ2AS
About:
New Jersey Second Amendment Society – Our mission is to promote the free exercise of Second Amendment rights within the community and Legislature of New Jersey, to educate the community regarding the enjoyable, safe, and responsible use of firearms, and to engender a sense of camaraderie and fellowship among the members and their families. Visit: www.nj2as.com