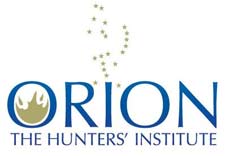 JOHNSON, Vt. –-(Ammoland.com)- James A. Tantillo of Ithaca, N.Y., has been named executive director of Orion, The Hunters' Institute, an organization that provides leadership on ethical and philosophical issues related to fair chase and responsible hunting.
"Jim's strong management and leadership skills make him the right person to push Orion to a new level," said Mark Hirvonen, chairman of Orion's board. "In addition, the organization will benefit from Jim's expertise in environmental policy and natural resources management as well as his commitment to upholding our hunting traditions."
Tantillo said his immediate goals are to increase fund-raising and to work on shared goals with groups such as the American Wildlife Conservation Partners. In addition, his efforts will include maintaining and expanding Orion's publications and speaking services and strengthening its hunter education services.
An avid upland bird hunter, Tantillo has served on Orion's board since 2009. During that time, he was chairman of the board's governance committee, and he also represented Orion nationally at conferences and hunter education training workshops in various states.
Tantillo's management experience includes serving from 2006 to 2008 as CEO of Historic Ithaca, a local historic preservation organization in Ithaca, N.Y. Prior to that, he was interim executive director and chairman of the board for the Tompkins County Society for the Prevention of Cruelty to Animals, also in Ithaca, N.Y.
Currently, Tantillo is a lecturer in environmental history and ethics for the Department of Natural Resources at Cornell University, where he will continue to teach part-time. Tantillo holds his Bachelor of Science, Master of Science, and doctorate in natural resources from Cornell.
Orion, The Hunters' Institute is the nation's leading hunting think tank and provides education and consulting services for hunters and nonhunters throughout the United States and Canada. The organization was founded in 1993 by Jim Posewitz, a Montana big game biologist. Posewitz put Orion on the map with his book Beyond Fair Chase, which has sold more than a half million copies.
To learn more about Orion, The Hunters' Institute call 906- 362-1969 or visit Orion's website at www.huntright.org.