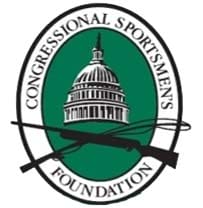 Washington, DC –-(Ammoland.com)- Five of the nation's state chief executives gathered at a Governors Sportsmen's Caucus (GSC) event in Williamsburg recently to highlight policy issues of concern to hunters and anglers around the nation.
Members of the hunting and fishing community, the Congressional Sportsmen's Foundation (CSF) States Program Team, and representatives from organizations that sponsor the GSC were joined at the event by Governors: John Hickenlooper of Colorado, Dan Malloy of Connecticut, Terry Branstad of Iowa, Peter Shumlin of Vermont, and Matt Mead of Wyoming. Also in attendance were Virginia's Secretary of Natural Resources, Doug Domenech, and staff from Indiana Gov. Mitch Daniels' office.
At the reception, Governor Branstad was officially named as the new Republican Vice-Chair for the GSC, which now has 24 sportsmen-allied Governors from both political parties and diverse geographic regions of the country. Additionally, Governor Malloy of Connecticut became the newest member governor of the GSC. Collectively, member governors of the GSC represent large outdoor constituencies that include many of America's nearly 40 million hunters and anglers who contribute billions of dollars to the U.S. economy, spending more than $76 billion dollars a year on hunting and recreational angling.
"In Wyoming we know the importance sportsmen play in the economy and in wildlife management," Governor Mead of Wyoming said. "From endangered species to multiple use of public lands, there are many issues related to hunting and fishing that the nation and Wyoming face, and this venue provided for a positive discussion."

When discussing his dedication to the sportsmen's traditions, Governor Shumlin of Vermont noted, "I am a lifelong hunter and have carried that commitment through my years of public service, as a state Senator and now as Governor. I'm proud to say that this year, my administration pushed through the largest general fund allocation for Fish and Wildlife in the state's history. Another important focus has been encouraging young people to become sportsmen and women. I have attended Fish and Game club events throughout the state to generate more interest for young hunters and anglers who will be the next stewards of our wildlife. I appreciate the partnership and hard work of the Sportsmen's Caucus on this front. Keeping our hunting and fishing traditions alive is critical to a healthy environment – and a healthy economy!"
Additionally, Governor Shumlin penned a proclamation last week on the 75th Anniversary of the Fish and Wildlife Restoration Program – acknowledging and celebrating the leading role that sportsmen and women play in providing critical funding for fish and wildlife management.
Guided by a bipartisan leadership team of governors lead by Co-Chairs, New Mexico Governor Susana Martinez and Montana Governor Brian Schweitzer; Vice-Chairs, Arkansas Governor Mike Beebe and Iowa Governor Terry Branstad; and staffed through the Congressional Sportsmen's Foundation, the GSC, along with the Congressional Sportsmen's Caucus and the National Assembly of Sportsmen's Caucuses, serves as an unprecedented network of pro-sportsmen elected officials that promote and protect the agenda of America's hunters and anglers.
"On behalf of the sportsmen and women of this country, we thank the member governors of the GSC for being powerful allies who are protecting and promoting the interests of sportsmen within their states," said Jeff Crane, President of the Congressional Sportsmen's Foundation. "These governors are on the front lines protecting our hunting and angling heritage by advancing sound fish and wildlife conservation policies in their states. Further, I would like to thank Governor Branstad for assuming the responsibility of serving as a Vice Chair of the Caucus and would like to personally welcome Governor Malloy as the 24th member of the Governors Sportsmen's Caucus."
The reception was made possible through the generous support of the Governors Sportsmen's Caucus Council Members: Altria, American Knife & Tool Institute (AKTI), ATK, Auto Alliance, Cabela's, Comcast, CropLife America, Daimler, Dallas Safari Club, ExxonMobil, JC Larkin Company LLC, National Rifle Association (NRA), National Shooting Sports Foundation (NSSF), Outdoor Channel, Remington, Richard Childress Racing, Safari Club International (SCI), Shell, Shimano, Winchester Ammunition and Wine & Spirit Wholesalers of America.
About:
The Congressional Sportsmen's Foundation celebrated its 20th anniversary in 2009. Throughout this time, CSF has maintained a singleness of purpose that has guided the organization to become the most respected and trusted hunting and fishing organization in the political arena. Visit: www.sportsmenslink.org