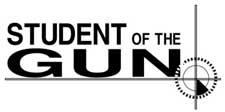 LUVERNE, AL –-(Ammoland.com)- From July 15th to the 20th nearly two-hundred young people from across Ohio as well as neighboring states took part in the 15th Annual Shooting Education Camp held at Canter's Cave 4H Camp outside of Jackson, Ohio.
Paul Markel and the Student of the Gun crew were there to record the event and support the camp.
"The 4H Shooting Sports motto 'To make the best better' fits perfectly with our motto 'a beginner once, a student of life." said Paul Markel, host and producer of Student of the Gun TV. "Last year we were only able to produce a single segment about the 4H Shooting Sports program. This year our video crew spent the entire week with the young people. We have several segments coming up in the new season the will highlight the many face of 4H Shooting Sports."
Every year companies from the Shooting Industry support the camp and this year was no exception. All of the campers and all of the adult volunteer instructors received Special Edition Student of the Gun T-shirts to commemorate the event. Industry supporters included Blue Force Gear, Brownells, Century Arms, Colt Firearms, Comp-Tac, Dura-Coat, Leupold Optics, Ruger, SIG, Wilson Combat and XS Sights.
The 4H Shooting Sports program is offered nationwide through local clubs and through events such as the Ohio 4H Shooting Education Camp.
Fred Sherman, the President of the Ohio 4H Shooting Sports Council summed up the program succinctly, "4H Shooting Sports isn't just about guns and shooting, it's about youth development. We use the shooting sports as way to reach young people and offer them an opportunity to develop positive life skills. These young folks learn mental and physical discipline as well as positive decision making. We hope these skills will serve them well as they become productive members of society."
Student of the Gun kicks off their SOTG 3.0 Season this week. Go to www.studentofthegun.com For more information about 4H Shooting Sports visit www.4-hshootingsports.org.
Paul Markel c 2012
Follow Paul Markel at Student of the Gun.com and PaulMarkel.com. Look for Paul's new eBook "Student of the Gun; A beginner once, student for life." On sale now at BN.com and Smashword.com