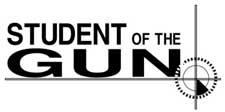 LUVERNE, AL –-(Ammoland.com)- Student of the Gun breaks out the big guns for the new season with hardware and personalities.
During the first episode we travel to Texas to take part in a combat pistol program taught by legendary firearms trainer Ken Hackathorn.
In the hardware department, Paul gets behind the AX50, a brand new bolt-action rifle chambered in .50 BMG from Accuracy International.
During "Before the Storm" a new, regular segment we take a look at several emergency and rescue knives from noted manufacturers such as CRKT, SOG, and Spyderco. Our crew hits the road and travels to Ohio to spend the week at the 4H Shooting Education Camp.
All of the new episodes of Student of the Gun will be available for instant viewing by simply going to http://www.studentofthegun.com.
"During the first two seasons we were constantly asked if our shows were available online. For SOTG 3.0 we will be putting each and every one of the 26 new episodes online for all to see." said Paul Markel host and producer. "Now you can watch Student of the Gun anytime and anywhere you have an Internet / Wifi connection. It's just that easy."
Paul Markel c 2012
Follow Paul Markel at Student of the Gun.com and PaulMarkel.com. Look for Paul's new eBook "Student of the Gun; A beginner once, student for life." On sale now at BN.com and Smashword.com