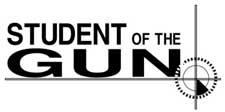 LUVERNE, AL –-(Ammoland.com)- This week on Student of the Gun we take a look at the new brand S&W M&P22 .22 LR pistol.
A near exact copy of the larger M&P9, the M&P22 is an excellent training tool and a great way to introduce new shooters to handguns.
Our crew is back on road. We spend some time in Louisiana with the good folks from Red Jacket Firearms for their annual birthday bash where full-auto madness was in full effect.
After the birthday celebration Paul picked up a new RJF KMP-DI, their production version of the semi-automatic M4. During "Before the Storm" we dig into the MRE to see what's inside and Chef Paul gives us some field cooking tips.
All of the new episodes of Student of the Gun will be available for instant viewing by simply going to http://www.studentofthegun.com.
"During the first two seasons we were constantly asked if our shows were available online. For SOTG 3.0 we will be putting each and every one of the 26 new episodes online for all to see." said Paul Markel host and producer. "The feature episode for each week will be up for viewing each Monday evening."
Paul Markel c 2012
Follow Paul Markel at Student of the Gun.com .