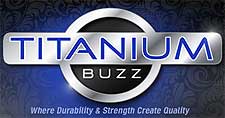 Linden, MI –-(Ammoland.com)-  Display your passion for all things outdoors with Titanium Buzz Outdoor-Themed Rings.
The same Titanium Buzz that brought you Realtree and Mossy Oak camouflage wedding rings, has a variety of non-camo outdoor-themed rings designed with the avid outdoorsman or woman in mind. Rings are available in a variety of designs in unique and sturdy materials, such as titanium and black zirconium.
"We've developed more outdoor rings because we saw a great need in the market," Kevin Begola, owner of Titanium Buzz, says. "You just can't find these types of rings at a jewelry store. That is why outdoorsmen and women come to us for their cool outdoor-themed rings."
Animal Track Rings (including bear, deer, turkey, wolf and elk) are a fun way to show off your "wild side." The Black Zirconium Deer Track Ring features raised, carved deer tracks. The band is mostly black, except where the areas have been cut away to expose the natural zirconium look.
The Turkey Track Ring is designed with a lightweight and durable titanium band, and makes a great present or even a wedding band for that special hunter in your life. The ring features an 8mm width band with a beveled edge. The turkey tracks are carved through the center of the ring, which boasts a satin center and polished edges for that extra special customer. The Black Zirconium Deer Track Ring and Turkey Track Ring are a small sampling of the many animal track styles available.
Hunters also appreciate the Hunting Scene Rings, which boast highly detailed artwork custom designed by Titanium Buzz. For example, the Deer Hunter Scene Ring features a durable and lightweight titanium band (flat profile) that has been laser engraved with great detail. The scene is that of a bowhunter in tall grass tracking down a buck. This ring makes a great gift or can be used as a wedding band as well. The laser-engraved details are actually burned into the material, making the scene durable and long-lasting.
Duck Band Rings have become a huge hit among duck hunters. The Duck Band Rings resemble a duck band, but can be customized with carved dates and initials. The flat-profile ring features a comfort-fit inside and a high-polished finish. The duck band concept is a great way to show off a special date for either a wedding or an anniversary gift.
For those who love to be on the water, the popular Fish Hook Ring is a must. This flat-profile titanium ring is designed with a repeating fish hook pattern. The center portion of the Fish Hook Ring has a sandblasted finish and carved raised fish hook designs. The outer portion of the ring has a satin finish.
For these ring designs and many others, check out www.titanium-buzz.com