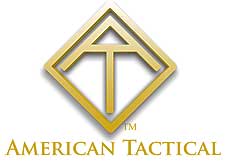 ROCHESTER, NY –-(Ammoland.com)- American Tactical Imports has reached the first few milestones in the quest to increase social media presence for the company, prompting the first three of eight giveaways.
Since joining the Facebook community in 2011, ATI has sought to raise awareness about their brand and products by interacting with fans through the social media site. In an effort to give back to ATI's loyal followers, as well as to grow its fan base, ATI has launched a promotional giveaway that triggers prize drawings at various growth landmarks.
To enter the drawing, fans must first sign in to Facebook and "like" the American Tactical Imports Facebook page. Then, fans click on the "ATI Giveaway!" tab and scroll down to fill out the entry form. Fans will only enter once to qualify for all eight giveaways.
The first landmark, 750 "likes" to the page, awarded a Scorpion Gear Pistol Case to the winner. The second giveaway, a Drago Gear Tracker Backpack, went to a winner at 1,000 "likes", and a Scorpion Gear Range Bag marked the third giveaway at 1,250 "likes".
The remaining giveaways are planned as follows: a Drago Gear Ambi Backpack at 1,500 "likes", a Drago Gear Single Rifle Case (42") at 2,000 "likes", a GSG 522SD Carbine at 5,000 "likes", a GSG STG-44 rifle + signed/framed poster at 10,000 "likes" and an ATI-15 HD16 rifle at 20,000 "likes".
For more information and to enter the drawing, visit www.facebook.com/AmericanTactical.
For more information regarding American Tactical Imports please visit www.americantactical.us .