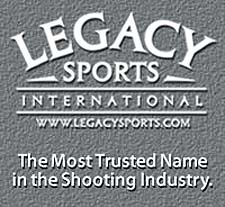 Reno, NV – -(Ammoland.com)-  Legacy Sports International, LLC announces yet another expansion through the creation of a new venture named Centurion International, Ltd.
Centurion International has been established to handle the importation and distribution of shooting accessories that include Nikko Stirling optics and Buffalo River gun bags, knives, gun safes and other goods. In the future, more lines are anticipated to be added.
Centurion International, Ltd. will be located in Reno, NV in the original Legacy Sports facility, adjacent to Legacy Sports'current office and warehouse.
Joel Lumsden has been named President of Centurion International, and will be relocating to the Reno area to oversee company operations.
Mr. Lumsden brings 17 years experience in the sporting goods industry in retail sales, retail general management, wholesale distribu- tion and dealer sales to his new position at Centurion International. For the past 10 years, Mr. Lumsden worked as a sales representative with Wild West Marketing, a manufacturers'representative group serving the western U.S.A.
Centurion International, Ltd.'s address will be 4750 Longley Lane, #208, Reno, NV 89502. Phone: 775-825-6532; fax: 775-828-0565. A website will be launched, soon. Mr. Lumsden's e-mail is: [email protected]
About:
Legacy Sports International is an importer of firearms and shooting accessories. Bringing in high quality, reliable and affordable products for shooting and hunting enthusiasts is the mission of Legacy Sports'business. With well-respected brands including Howa and Puma rifles, Escort shotguns, ISSC pistols and rifles and Citadel handguns and shotguns, Legacy Sports is committed to offer today's shooting sports en- thusiast performance on the range and in the field. Legacy's track record proves – with- out a doubt – that they have consistently provided accurate rifles and shotguns as well as award-winning optics for sportsmen on a budget. This is why Legacy Sports is known as "The Most Trusted Name in the Shooting Industry." For more information contact: www.legacysports.com