Mag 17 .223 Polymer 30 Round Magazine with Window.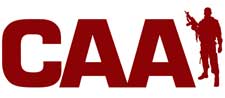 Tullytown, PA –-(Ammoland.com)- CAA is proud to introduce the new Clear Action Magazine.
This unique magazine features two clear windows on the leading edges of the magazine with an over-sized white indicator, facilitating quick round count and a full magazine indicator button on the bottom.
The clear window on the magazine side allows the user to easily view the number of rounds remaining, corresponding to the numbers stamped into the body.
In addition a full magazine indicator on the bottom pops out of the Clear Action Magazine base, providing a tactile indicator of a fully loaded magazine during low light or night operations.
The full mag indicator can be preset to pop out at either 29 or 30 rounds by adding or removing the follower extention.
Forward window placement for easy viewing
Large white follower extension stands out for quicker reading
Full magazine button on bottom pops out to provide a tactile indicator.
Full magazine button can be set to pop out at either 29 or 30 rounds
IDF finds the clear Action Magazine superior to the competition.
About:
Command Arms, CAA Tactical and EMA Tactical are the world's leader in the development and manufacture of advanced, superior arms accessories.. Visit:www.commandarms.com