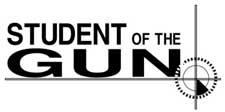 LUVERNE, AL –-(Ammoland.com)- Tune in to Student of the Gun this week for our discussion of the Fire Extinguisher Gun; a firearm staged and ready in the home "Just in Case."
Find out what Paul recommends for a home defense pistol. In this week's installment of "Before the Storm" we talk about water; how to protect your gear from it and how to carry it to keep yourself alive.
While the AR-15 is indeed the "American Rifle", we also like our AK's. Paul takes a close look at the Kalashnikov rifle and some practical accessories that you can add to the rifle from your own workbench. Finally, just for fun we take a trip to the USS Alabama Battleship Memorial Park to explore the mighty ship inside and out. It truly is an awesome sight to behold.
All of the new episodes of Student of the Gun will be available for instant viewing by simply going to www.studentofthegun.com.
"During the first two seasons we were constantly asked if our shows were available online. For SOTG 3.0 we will be putting each and every one of the 26 new episodes online for all to see." said Paul Markel host and producer. "The feature episode for each week will be up for viewing each Tuesday evening."
Paul Markel c 2012
Follow Paul Markel at Student of the Gun.com .