Editors Note: This unique design is being 100% funded by users, "crowd funding", no corporate backing, If you like this design contribute and support designer john sharps as he works to bring the Hellbreaker to market.
UPDATE: Indiegogo, the website used for the crowd funding portion this project has, pulled the Hellbreaker project from their domain because they do not support the Second Amendment or anything to do with real guns.  So the project is now on hold as John looks for a new way to organize project funding.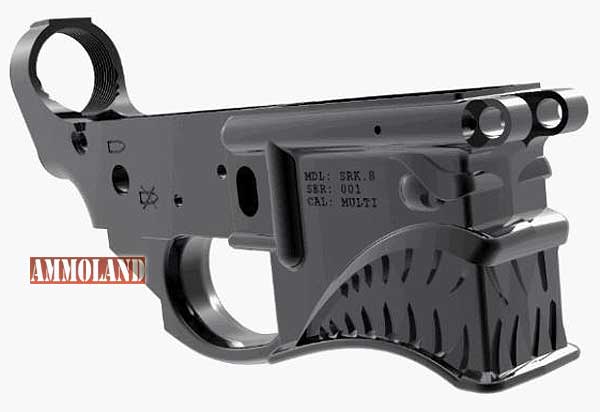 Oregon –-(Ammoland.com)- Hellbreaker is the world's most unique AR-15 lower receiver, with a design inspiration that comes from the shark-faced combat aircraft of WWII.
The firearms market is currently saturated with parts and accessories meant for the popular AR-15 rifle platform, but the core of that platform — the lower receiver — has hardly changed its look since its initial design in 1957.
Similar to the way pilots and crew painted the face of their WWII planes to express individuality in an environment where bureaucracy and uniformity was the norm, Hellbreaker gives a custom appearance to any AR-15 rifle.
The design has been through 8 different revisions, two different user feedback studies, rapid prototyping and performance testing. The focus now is toward bringing the product to market and designer John Sharps is using a crowd funding campaign as means to get there.
That campaign also enable buyers to reserve their place in the check-out line. Year one of production will be limited to 999 units.
Hellbreaker is expected to reach the market at a retail price of $289.
Product Specifications:
· 7075-T6 aluminum (billet)
· Hard cost anodized finished per MIL-A-8625
· Integral trigger guard
· Beveled magazine well
· Caliber mark: 'MULTI'
· Compatible with standard issue magazines and PMAG's
· Made in Oregon
Sign-up for yours today: www.indiegogo.com/hellbreaker