Documented as Taken from Bob Dalton's Dead Body- A Factory Engraved Colt Single Action, For Sale in Rock Island Auction Company's Most Anticipated Auction to Date.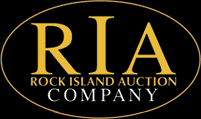 Rock Island, IL –-(Ammoland.com)- Rock Island, Illinois. Rock Island Auction Company's September 7th, 8th, and 9th Premiere Firearms Auction will be nothing short of spectacular.
The auction is comprised of four core collections which all exude condition, quality and rarity.
"We consider ourselves to be extremely fortunate to be able to offer these collections back to the market place. It's a tremendous success for us as a company to secure one of these collections, let alone all four, and for a single auction" said Patrick Hogan President/owner of Rock Island Auction Company.
The Auction will be headlined by the world renowned Gateway Collection of important Colts, Winchesters, Smith & Wesson's and other 19th and 20th Century arms. Amassed over 50 years this esteemed collection was constructed by an exceptionally astute business man who had an eye and a passion for rare, high conditioned and historically significant firearms.
The Gateway Collection represents a lifetime of studying, searching, and building, not just buying the best of what was available but meticulous in taste and patience in his purchasing. The collection boasts some incredibly rare and historic arms including: the magnificent and historic factory engraved black powder Colt Single Action Army revolver from the personal property of Bob Dalton documented to have been taken from his dead body after the famous Coffeyville raid. This revolver has an unparalleled amount of documentation and for an outlaw gun its pedigree is unsurpassed as the revolver can be documented back to its original owner who bought the gun from the Coffeyville public auction 9 months after the raid.
The collection also features an original factory documented 16" Colt buntline, an original factory documented 10" Buntline, an excellent and original Winchester "1 of 1000", Factory engraved Henry's, rare highly desirable U.S. Colt 1890 Gatling gun, and the list goes on and on to include over 20 original Colt flattop target Single Actions and Bisley's as well over 150 other first generation Colt Single Action many factory engraved and high condition examples.
The Michael Barrett Collection is truly an extraordinary assemblage of European firearms and militaria featuring: 125 spectacular 19th and 20th century European Helmets which include Russian Garde Du Corps officer's helmets, Royal Dragoons Cavalry helmets, and Early 17th Duke of Cambridge Lancers helmets. The center piece of the collection is without a doubt: the Napoleon presentation silver hilted French saber and the Napoleon Imperial Guard Czapaka.
The Howard "Doc" Janecek Collection of important, high condition and rare Civil War arms. Many pieces in this collection represent the most sought after rarities and the highest known condition examples of particular models. Of note is a Massachusetts Arms Greene Carbine with 26 Inch Barrel Tin Finish and in 45 Caliber. The very finest Lee Single Shot Carbine. For Civil War era revolver the collection features an outstanding martially inspected Pettengill and an original Confederate Lemat.
The William Ashby Collection which spans military conflicts as early as the 17th century all the way through WWII. Featured in this auction was his core grouping of derringers including over 35 gold and silver banded Henry Derringers as well as many highly desirable early U.S. Martial Pistols including rare 1811 U.S. Simeon North Pistol, scarce 1805 U.S. Harpers Ferry Pistol, for condition the collection feature a near new Harpers Ferry Model 1841 Rifle with rare Merrill breech loading conversion.
The auction also boasts some spectacular unnamed collections which include the finest grouping of Luger semi-automatic pistols Rock Island Auction has offered. Individual consignments include factory engraved percussion Colt's of which two were personal presentations from "the inventor" Col. Samuel Colt himself!
The auction which will occur over three days this September 7th, 8th& 9thwith a full day preview Thursday, September 6th, open to the public. For more information on any of the above items or to learn more about the other 2600+ items in sale please visit www.rockislandauction.com
About:
Rock Island Auction Company has been solely owned and operated by Patrick Hogan. This company was conceived on the idea that both the sellers and buyers should be completely informed and provided a professional venue for a true auction. After working with two other auction companies, Mr. Hogan began Rock Island Auction in 1993. Rock Island Auction Company has grown to be one of the top firearms auction houses in the nation. Under Mr. Hogan's guidance the company has experienced growth each and every year; and he is the first to say it is his staff's hard work and determination that have yielded such results. Visit: www.rockislandauction.com